Fashion
,
Jewellery
,
Pandora
,
Pandora
,
Pandora 20
,
Pandora Bracelets
,
Pandora Friends
,
Pandora News and Updates
,
Pandora Reviews
,
Pandora Rings
,
Pandora Style
,
Pawfectella Everything!
,
Petite Style
,
Uncategorized
PANDORA 20 | The Pig Charm | My Fairy Garden Pandora Bracelet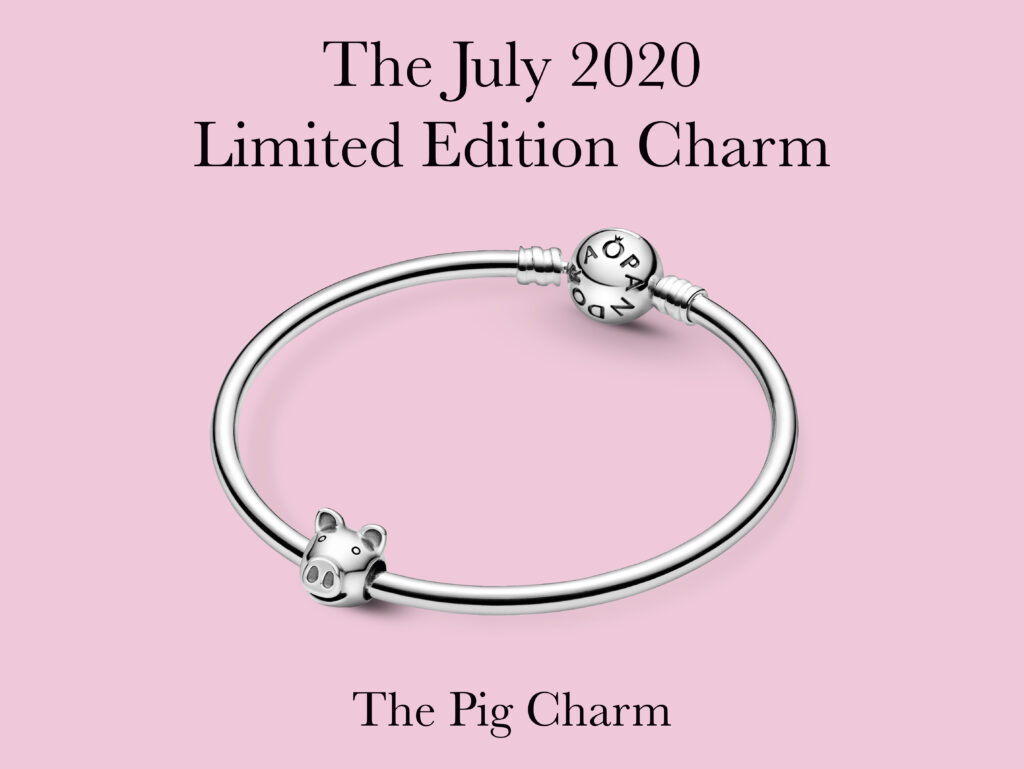 I hope everyone is staying safe and healthy during this time, while enjoying the Summer season. I hope this blog post adds a smile to your day!
This year, Pandora celebrates their 20th Anniversary of the Pandora Moments charm bracelet. This charm bracelet was first released in 2000. To celebrate 20 years of collecting, Pandora is going through their archives and bringing back a vintage charm every month in 2020. All 12 of the charms will be limited-edition. Each charm will be available only until it has sold out, which makes all 12 charms an absolute must for a Pandora collector!
I am so excited to join Pandora in celebrating this special milestone! To celebrate Pandora's anniversary, each month, I will share a special story behind a charm in my collection, and reveal what the limited-edition Pandora 20 Charm is!
So, make sure to grab a cup of iced tea…and let me share with you what this month's charm is…
* All 2020 Limited Edition Pig Charm photos are provided by Pandora *
The 2020 Limited Edition Pig Charm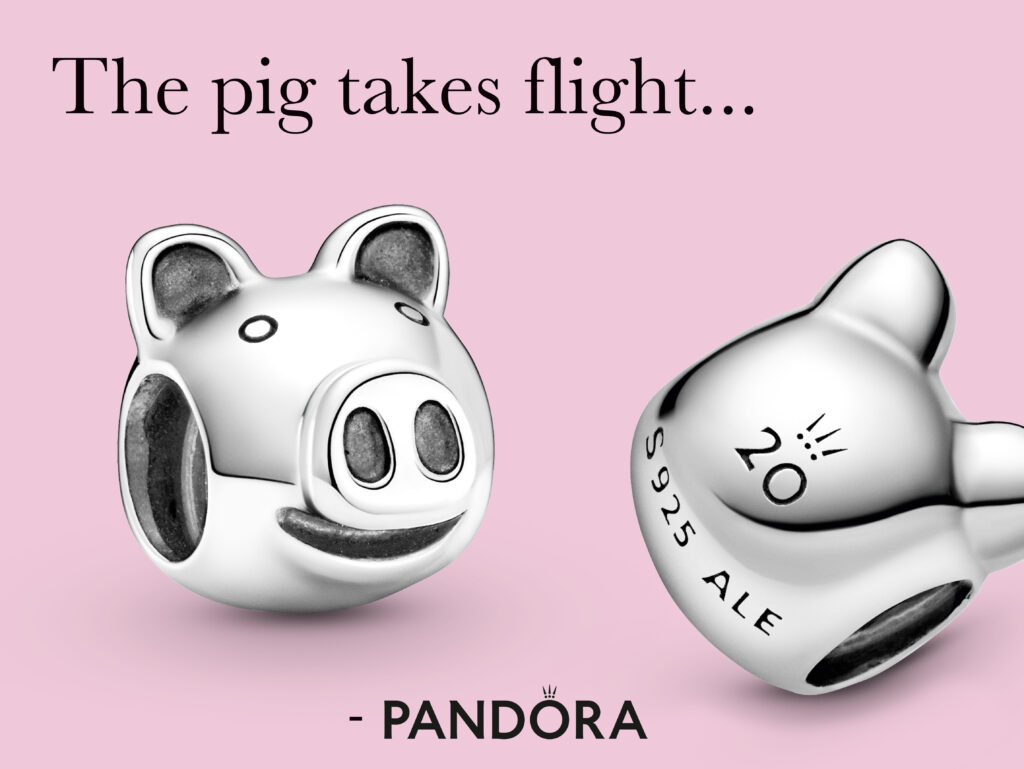 Hello June 20th! Today we celebrate the relaunch of the Pig Charm! The original style number of this vintage charm was 790214. The updated version is also made in sterling silver and has the Pandora 20 hallmark displayed on the back of his head. This is the first anniversary charm where the logo is displayed on the back. Previously, the Pandora 20 hallmarks have been displayed near the front of the charm.

Prices from $35 USD and $40 CAD.
Each 2020 Pig Charm comes with a certificate, confirming its authenticity.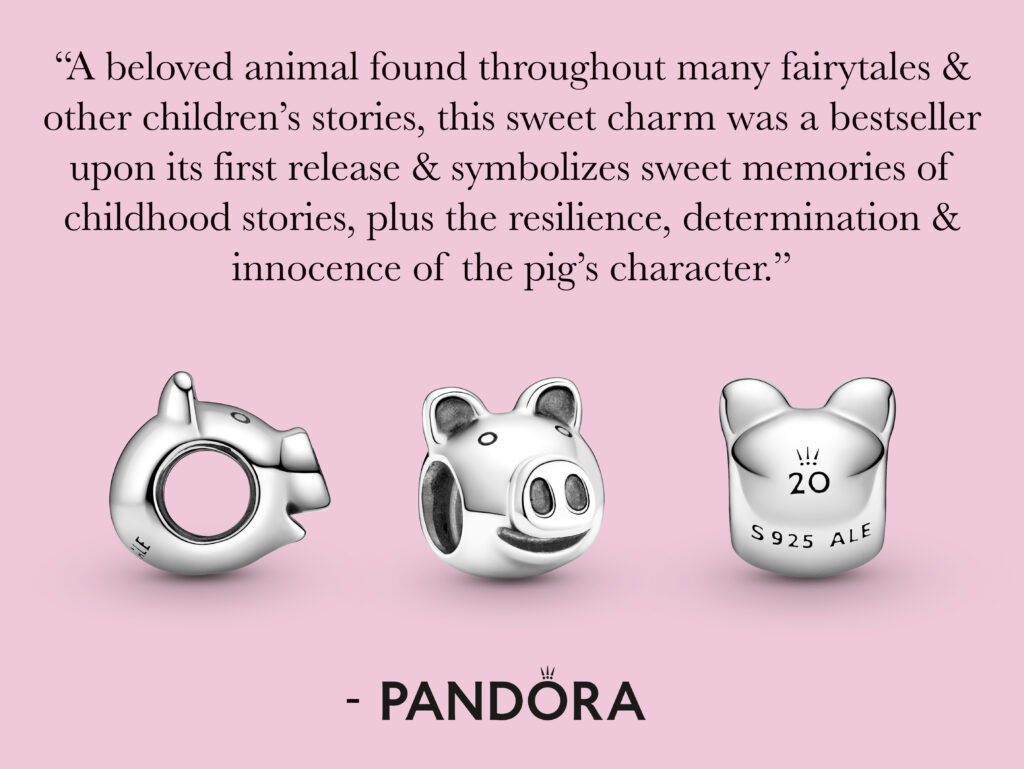 The 2020 Limited Edition Pig Charm is available globally only on Pandora's estore. Very limited numbers are available, so it is best to purchase today, June 20th, 2020…if its not already sold out!
Click HERE to shop (EN)
Click HERE to shop (FR)

*please note that these charms are very limited. Until supplies last.
The Limited Edition Pig Charm looks nearly identical to the original design of the Pig Charm. I love his wide grin and upright ears. For me, he represents fairytales, reading Lord of the Flies in high school and a cute nod to my guinea pigs: Harlow, Zooey and Georgina.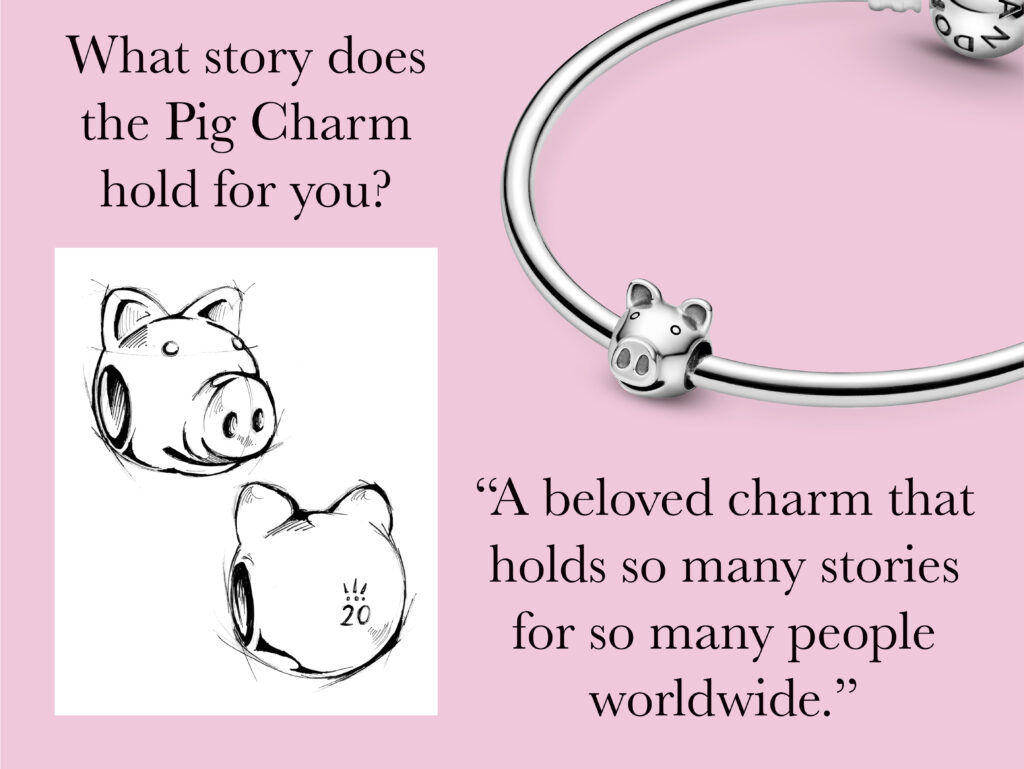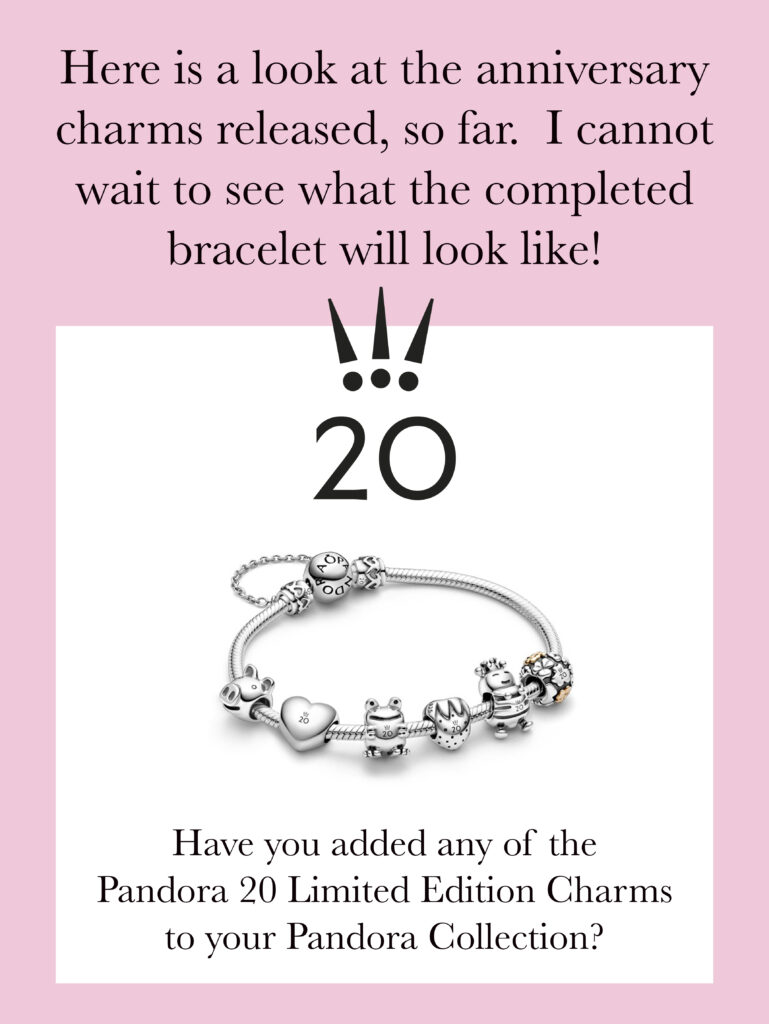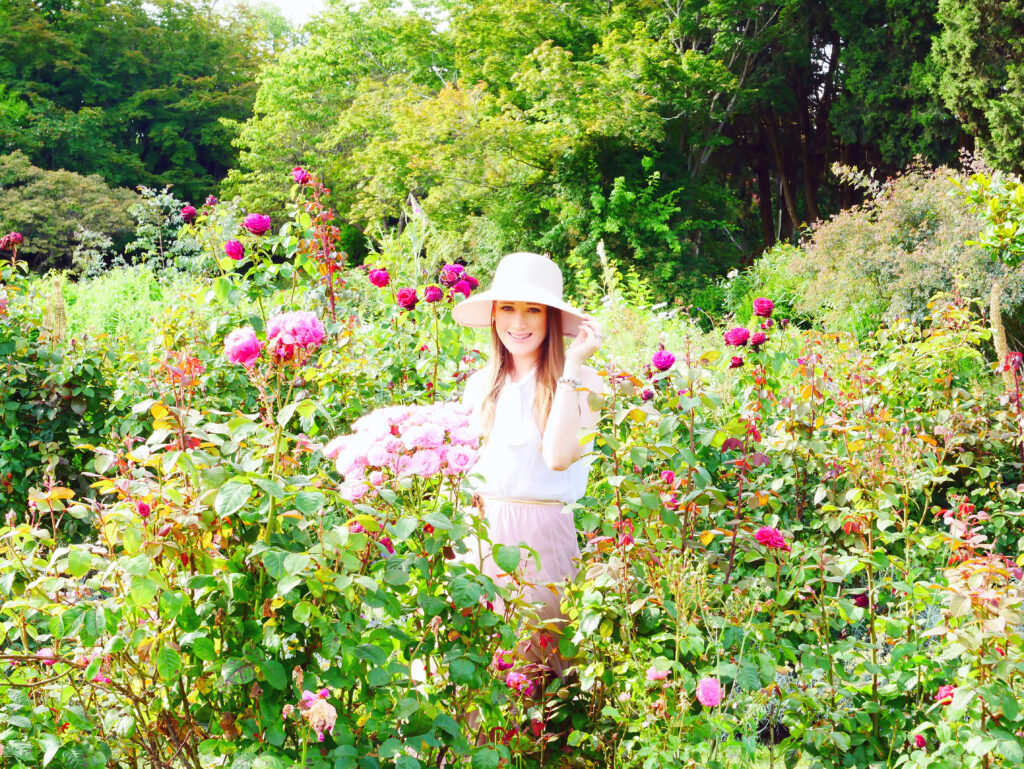 Each month, I celebrate Pandora's 20th anniversary by sharing a special charm in my personal Pandora collection. For this month, I am telling the story behind my Fairy Pixie Charm. I have it as the centrepiece charm on my Fairy Garden themed Pandora Bracelet.
My Fairy Garden Bracelet is inspired by my sister and my mother. Each charm on this bracelet represents them. The fairies represent my sister and the flowers represent my mother and her beautiful garden.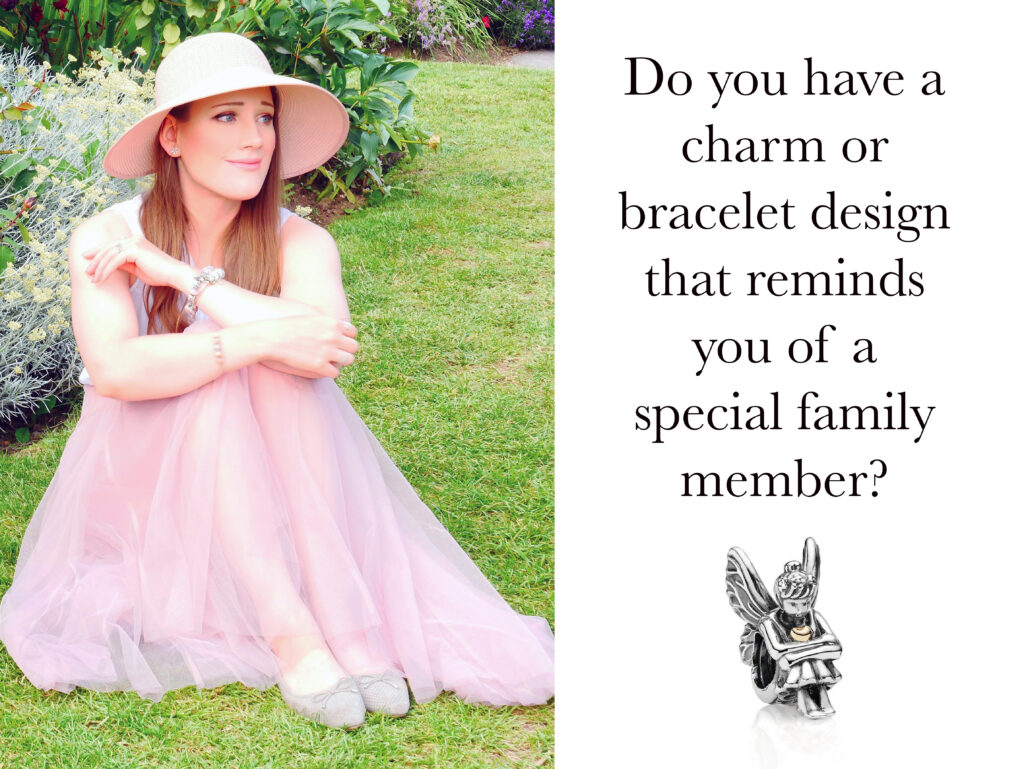 I purchased the Fairy Pixie Charm when it was first released. It reminded me of my little sister, who is in heaven. Fairies and Angels have always made me think of her because I see her as my guardian angel.
"Sisters are like angels.
They sparkle, twinkle and glow,
they are the greatest gift our
hearts will ever know."

– Author Unknown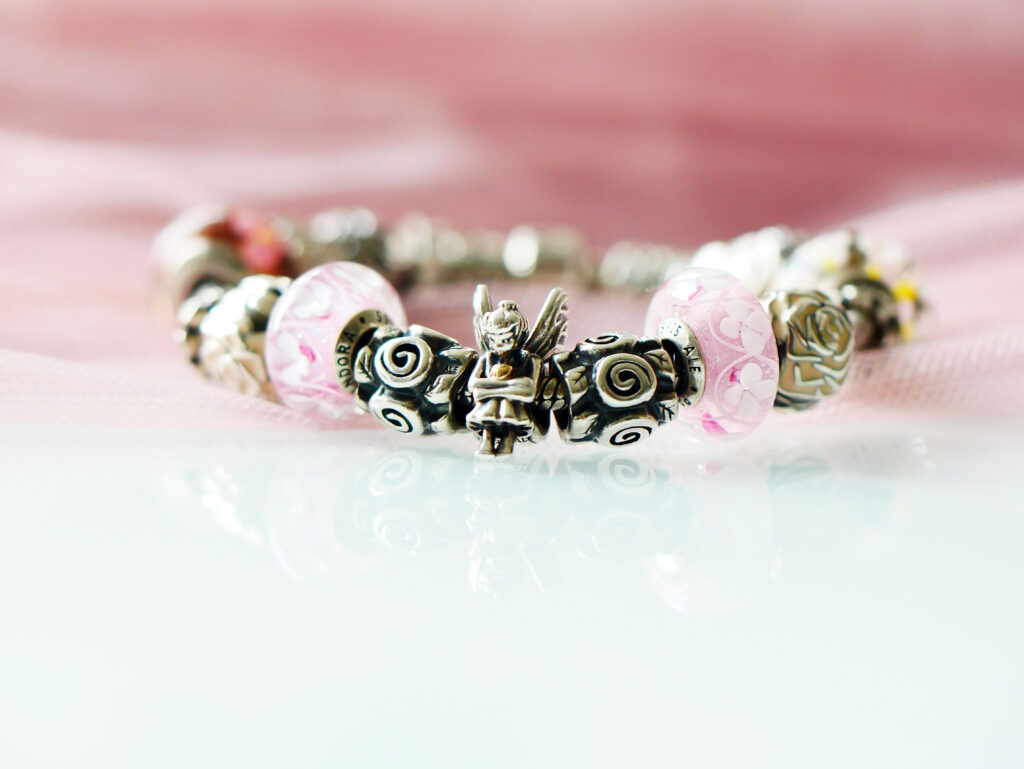 Sadly, this charm is now retired, but I am excited to share more of the details and story behind it, with you! It is one of my favourite charms, in my collection.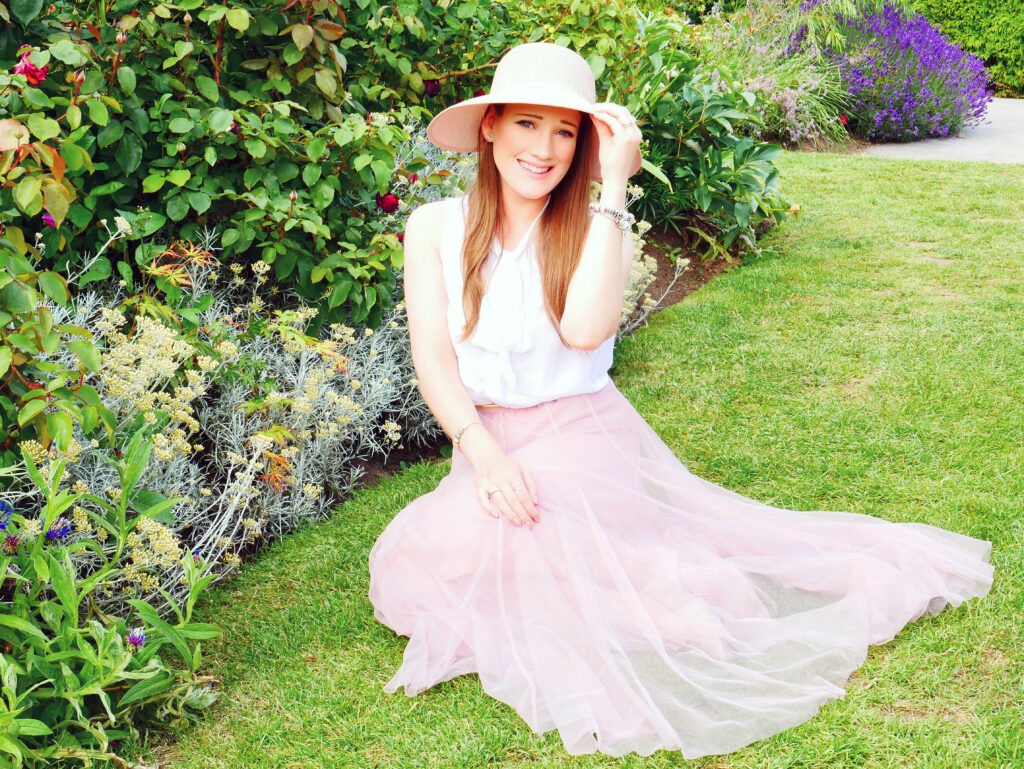 I have created a video to more personally tell you the story behind the Fairy Pixie Charm, as well as the bracelet theme! You can watch it HERE or down below:
Garden Fairies come at dawn, bless the flowers then they're gone!

– Author Unknown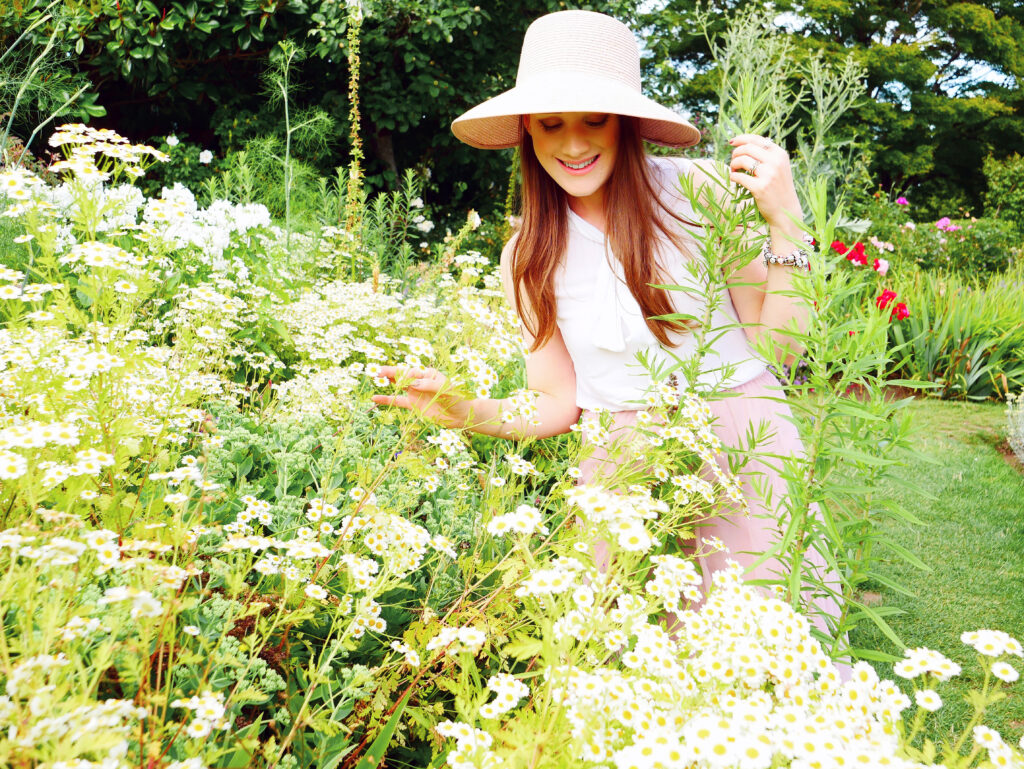 The Details…
The Fairy Pixie Charm
The Fairy Pixie Charm is a two tone charm. The fairy is sitting with her arms tightly wrapped around her knees with a 14 gold ct. heart. She has a thoughtful expression and her hair is tied up into a bun, Tinkerbell Style! Her wings are beautifully detailed, almost like a butterfly. She is wearing a flowing dress and is barefoot.

The Fairy Pixie Charm reminds me of the same fairy seen in the Forest Fairy Pandora Charm. This charm was released after the Fairy Pixie Charm. I love that the Forest Fairy is sitting on a mushroom! It is such a sweet detail.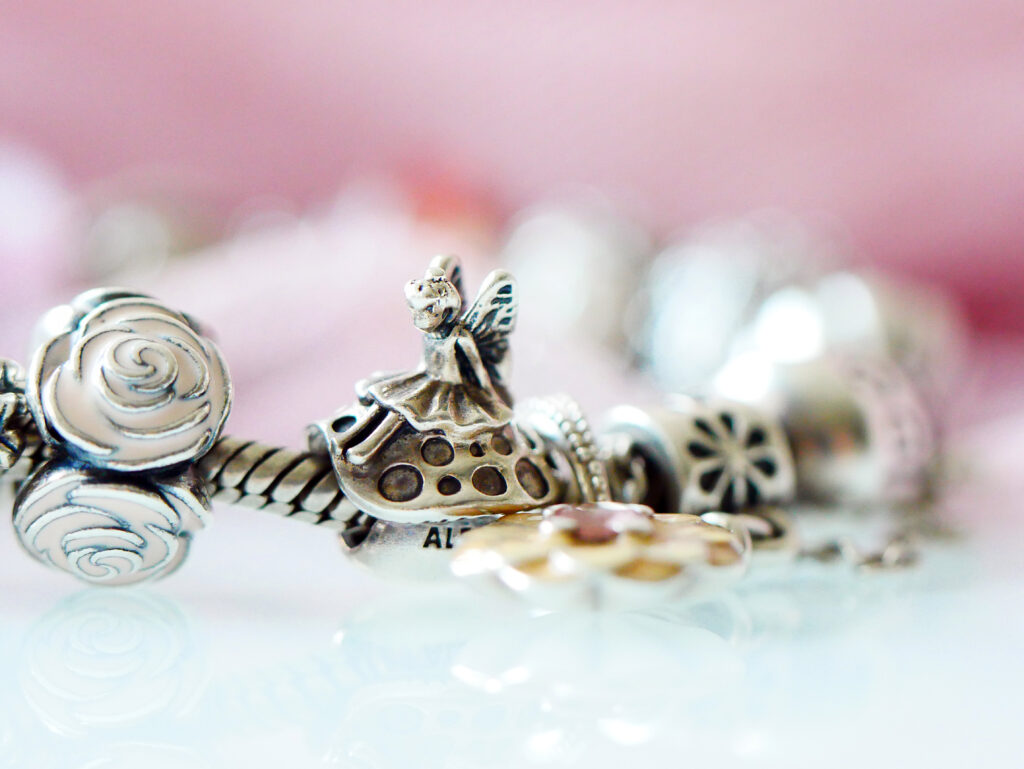 Do you own either of these charms in your Pandora Collection? I can never resist a fairy charm from Pandora!
For today's blog post, I styled my Fairy Garden Bracelet with my Pandora Open Bangle (with floral themed Pandora Murano charms) and my Pandora Essence Bangle. I also added two of my favourite floral Pandora Rings and Pandora Daisy Stud Earrings.
And that concludes this blog post! I would like to thank Pandora for the opportunity to be a part of their 20th Anniversary celebration! I am so excited to share exclusive Pandora 20 content and moments with you, over the next 5 months! Pandora will be providing me with 3 of the 12 anniversary charms, in this celebration.
I hope you have a wonderful day! Take care, stay healthy and spread love, especially during this time…praying for the world. <3