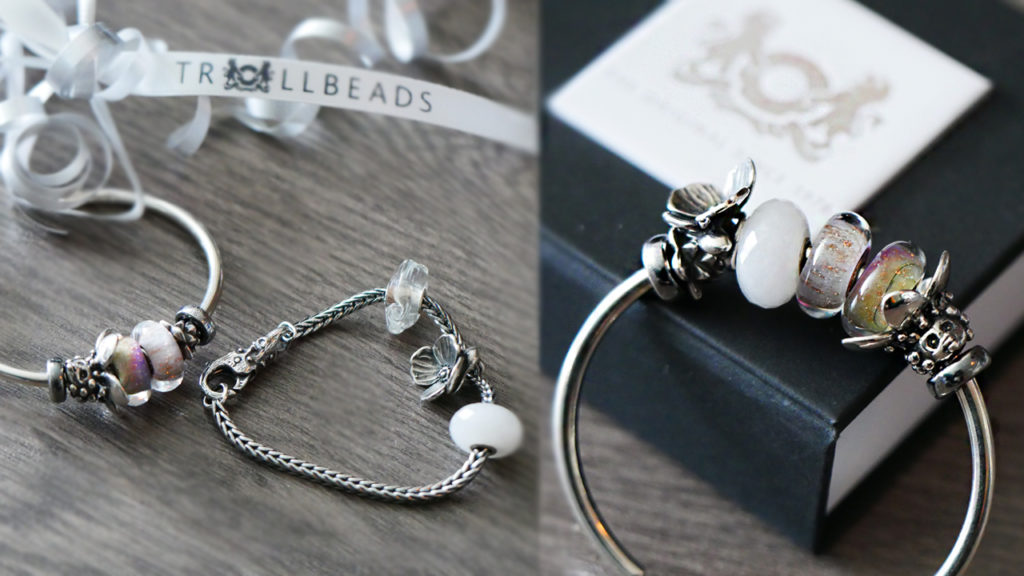 Today, I premiered my latest video on my Youtube Channel. It is really fun doing the Youtube Premieres because I get to chat "live" with you, as we watch the video! It truly feels like I am hanging out with my friends and getting to share my favourite things with them. Thank you to every one who was able to make it to the premiere!

Now, topic of the video? It was all about my, Trollbeads Collection. I had first heard about Trollbeads through my now friend, Jahndra from My.Xpressions. She had made quite a few youtube videos about them and on Instagram, I would see some charm lovers posting their bracelets and pieces. I always thought…maybe, one day I will get into Trollbeads, but for now…I am a devoted Pandora lover! I felt like I would be cheating on Pandora and did I really want to get hooked on/commit to another charm bracelet line?

Last year (I believe in March), I went to an independent jewellery store to get a unicorn Chamilia charm. This store use to carry Pandora and I had always loved the service and I was heartbroken (and so were they) when they had to stop carrying Pandora. They replaced Pandora with Chamilia and Trollbeads. I had decided to go see this unicorn charm in-person and to say hello to every one. They actually didn't end up having the unicorn charm and I started to look around for their Trollbeads pieces and couldn't find them. Well, the gentleman helping me told me they actually were getting rid of their Trollbeads line and they had a few trays left of the pieces, which he pulled out for me. The line wasn't doing as well for them and all their pieces were 50%. So…needless to say, I ended up investing in my first Trollbeads purchase! How could I say, no?! I actually made a haul video all about my shopping experience, which you can watch here. From this purchase onwards…I fell in-love with Trollbeads and my collection slowly grew. My husband even ended up surprising me with three beautiful pieces!


Top Three Reasons I love Trollbeads:
They are so whimsical, artistic and romantic in their designs. They are truly works of art! Their glass beads are just stunning! And Trollbeads use to design and make Pandora's muranos!!! This partnership ended a number of years ago.
The quality of their silver is amazing and reminds me of "old Pandora". The silver pieces have a beautiful weight to them and they also have gold pieces, as well.
They continue to use real gemstones like quartz, moonstone, onyx, etc. in their muranos and charms. This is something I wish Pandora would do again and I miss it so much. Interestingly enough, Trollbeads is SOOO well priced for the amount of quality of their charms and it's quite interesting when you compare the cost of a Pandora equivalent. That being said, I think Trollbeads is slightly more comparable to Ohm Beads or Red Bali Frog.
Here's the link to my new video: My Trollbeads Collection
Do you own any Trollbeads jewellery? If so, what are your thoughts on their pieces? I would say my love for Pandora and Trollbeads is the same!

Thank you so much for reading! Chat with you in my next post!

Love,

Emily xx