What Ella Got For Christmas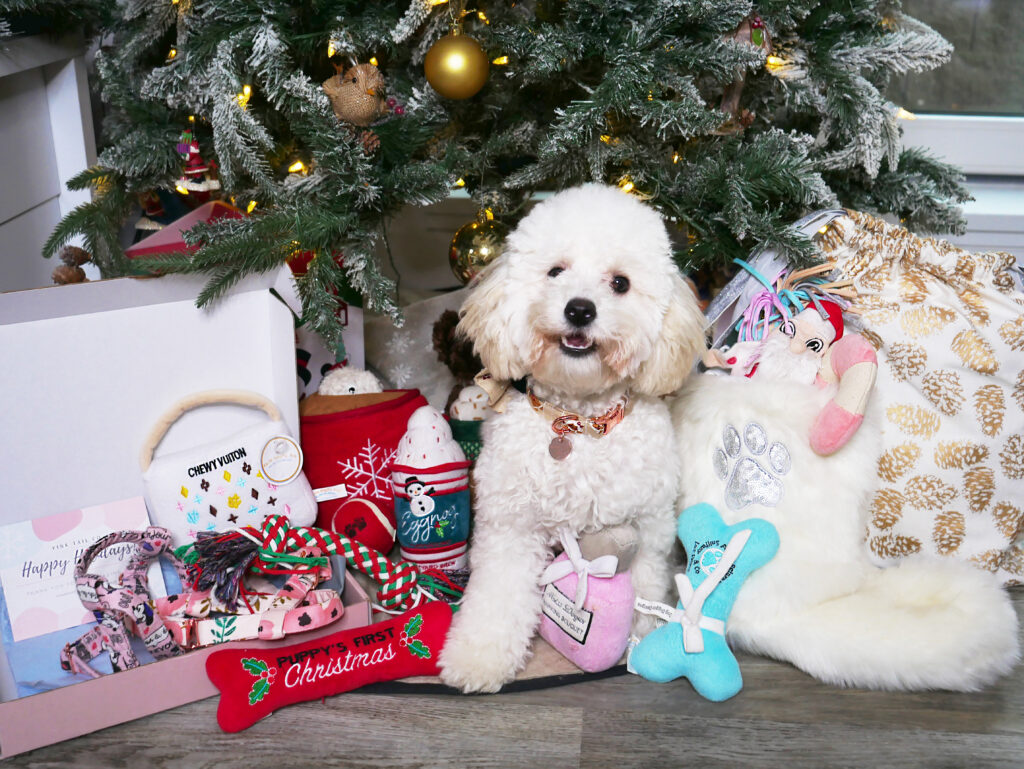 Today's blog post is about Ella, my mini poodle puppy and what she got for Christmas! This was our first Christmas with her and it honestly ended up being the best Christmas EVER! She just adds such warmth and fun into our days, and Christmas was no exception.

While we did go to Toronto, right before Christmas (to see our family and friends), I really wanted to be back home to celebrate Christmas in our new home with our Guineas and Ella! I am really happy we made this decision because it ended up being the most peaceful, relaxing and joyful Christmas morning I've ever experienced.

After sleeping in (we usually go to midnight mass on Christmas Eve), I got up and made some morning teas (Santa's Secret* from DAVIDsTEA, of course) and got Snowman (my husband) and Ella out of bed. I was SO excited for Ella to open up her stocking filled with toys! "Santa Paws" had arrived late that night and filled up her fluffy stocking (Nicole Miller), with lots of surprises! I brought my tripod out, so I could film the moment, but be present and not distracted, as it recorded! It was soo fun to see Ella's excitement as she stuck her head in and pulled out different presents! One of her favourites was a cute mini Santa I got from Petsmart, as well as a "Sniffany and Co." blue bone complete with ribbon (by Dog Diggin Designs). She also liked the organic pink candy cane too (by Simply Fido)!

*affiliate link for DAVIDsTEA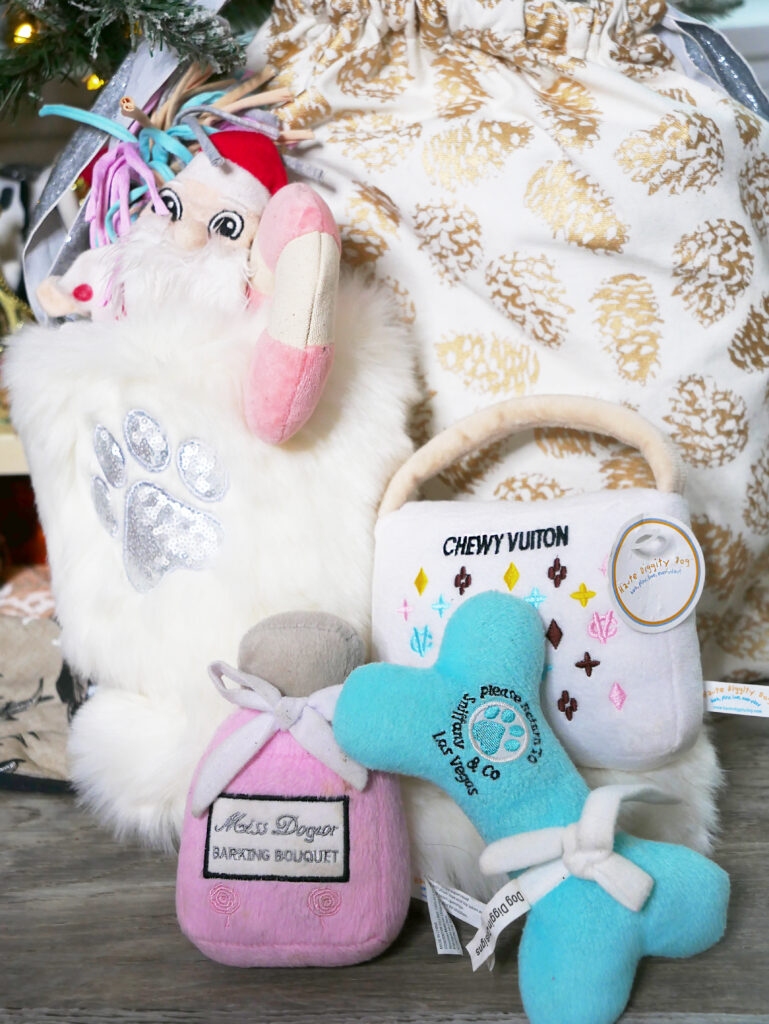 After that, my husband and I opened our gifts. Ella was curious and full of wonder, as we unwrapped and opened each one. And to her excitement, the last gift, under the tree was for her! We got her a "Miss Dogior – Barking Bouquet" perfume stuffy (by Haute Diggity Dog) and three delicious treats (Unicorn "poop", Christmas "brownie" and Reindeer "cookie"). It was so fun seeing her unwrap her gift. I asked her which treat she'd like to enjoy and I must say, she takes after her mom! She chose the unicorn "poop" rainbow themed treat! I did take videos of this too. I think I will save these videos for my Pawfectella Vlogs (still debating if I should do one big long video or a few mini ones!).

I also added Ella's "Chewy Vuiton" (by Haute Diggity Dog) to this photo because she loves this toy! She loves to carry it around by the handle, which is so adorable to watch.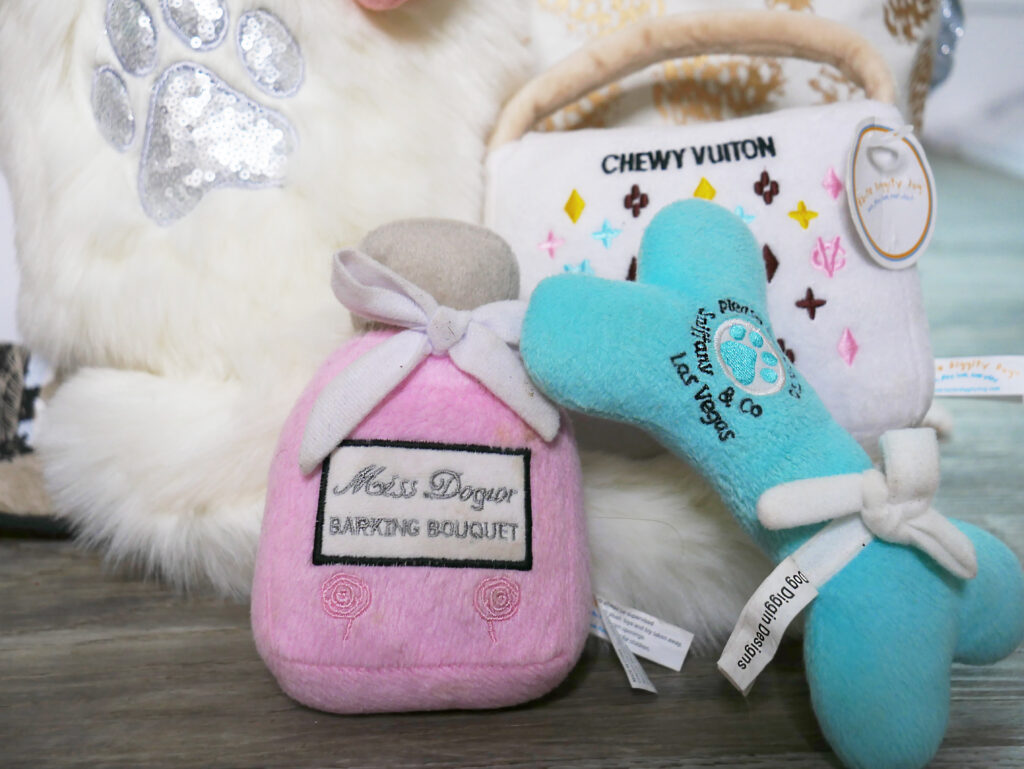 I got most of Ella's presents at a store called, Barking Babies. I love going there to find special and unique things for my little pup! This was the first ever store we took Ella too, right after we picked her up, to get her a harness. At 8 weeks, she was super small and the associate was so sweet and welcoming to us! I was really impressed with the level of service and it keeps me coming back time and time again!

Before Christmas, I also picked up a few adorable Christmas themed toys for Ella. I really love going to Marshalls/Winners/Homesense because they have a great pet section for Dog and Cat owners. I find great deals on such cute themed toys! One of Ella's favourites is by Zippy Paws. It is an interactive toy that provides so much fun for Ella and I! The stuffed toy is a big red mug of "hot chocolate" with two large holes and "marshmallows" that can be pulled out from the holes. She loves finding and pulling out the squeaky marshmallows and we have fun tossing and throwing them around. I have some cute videos of Ella playing with this toy on her Instagram, if you'd like to see. This toy is Ella's favourite and because of that, I ended up getting her a similar "Pumpkin Spice" toy from Petsmart too (not pictured). She loves this one too!

I also got one Eggnog "puppuccino" (by Fuzzyard) and one Gingerbread "puppuccino" (by Bow Wow Pet Products) for Ella from Marshalls/Winners/Homesense too! Her Daddy's favourite holiday drink are Eggnog Lattes, while I am a huge fan of the Gingerbread Lattes! Oh, and I got her a cute red stuffy bone that says, "Puppy's First Christmas". I had gotten a similar one at Halloween and they are great for photos!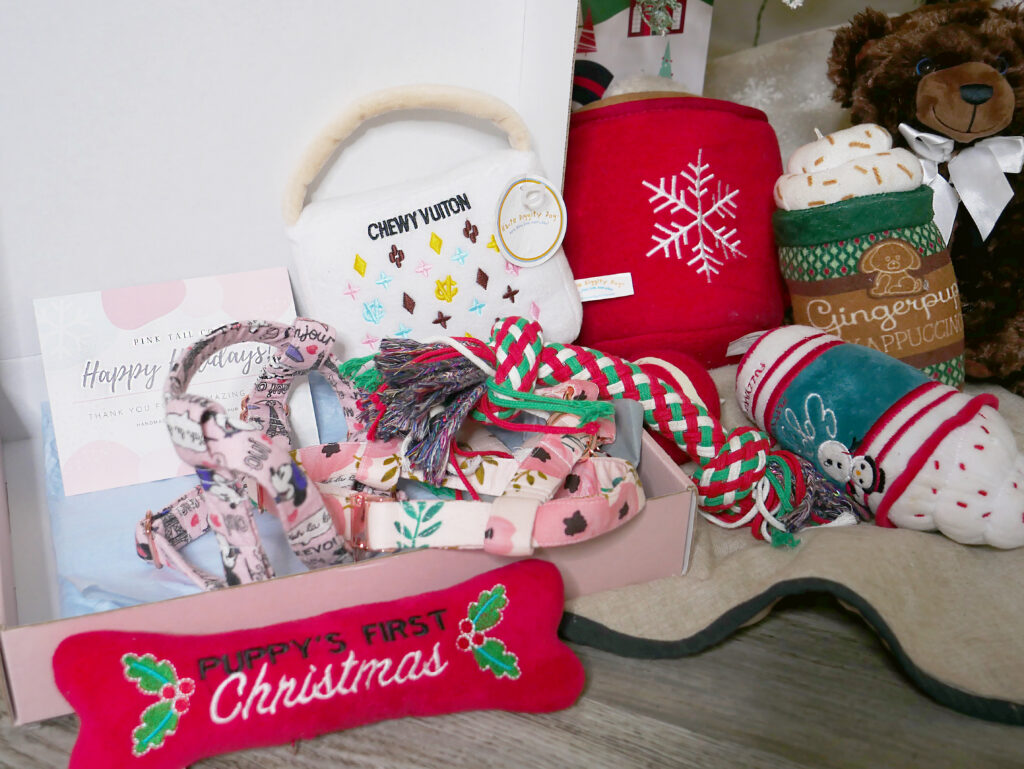 During the Black Friday Sales, one of my favourite online dog accessories stores, had a great deal and I stocked up on some pieces I had been wanting to get Ella! They are called, Pink Tail Co. and I absolutely LOOOOVE their designs, quality and service. I got her two adorable harnesses. One is the, "Aurora" to match Ella's leash, bow and collar I purchased back in July. And the other was, "Disney in Pink". I also got her an adorable gingerbread themed collar and bow!!! Too cute to resist! I regret not getting a matching leash.
Ella also got spoiled by our loved ones! She got a very Christmassy chew rope from her Aunt Angie (DailyCharmAddict) and an adorable Mickey Waffle from Aunt Nichol (MyPandoraCharmedLife). Aunt Jessica got her a unicorn coloured squeaky toy and two cute balls and she also got an hilarious gingerbread man from Aunt Tiara (TeaforTiara).

And there you have it!!! That is what we (and Santa Paws), spoiled our little Ella Bella with for Christmas. And don't worry! Zooey and Georgina also got spoiled lots too. hehe!!! They just gobble their presents up so fast, so I didn't get a chance to take photos.
We spent the remainder of Christmas Day relaxing, watching Christmas movies and enjoyed a delicious holiday meal together. I hope you had magical holiday with your loved ones too!
Also, Do you have any pets? If so, what did you get for them?