ALEX AND ANI Haul | Waiting for Spring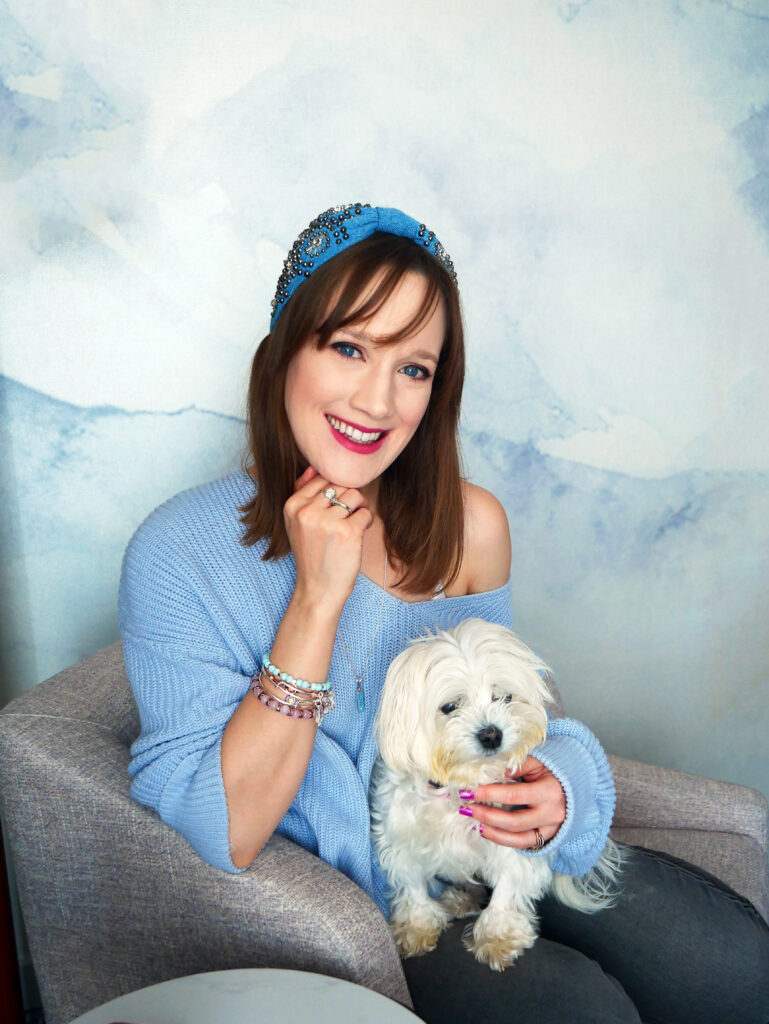 Who else is waiting for spring to arrive? ❄️🌸🌷✨ I certainly am! There is just something so renewing and transformative about the spring season. It really feels like the start of a new year, for me! I have a lot of goals for this upcoming spring and I am so excited to see where the season will take me.
With spring close to my heart, I couldn't help, but create a spring inspired bracelet stack. I used a mixture of ALEX AND ANI bangles, charm bangles and beaded bracelets. ✨ I love how the different textures and styles allowed me to create my own unique spring look! My bracelet stack is a lovely reminder that spring is close by.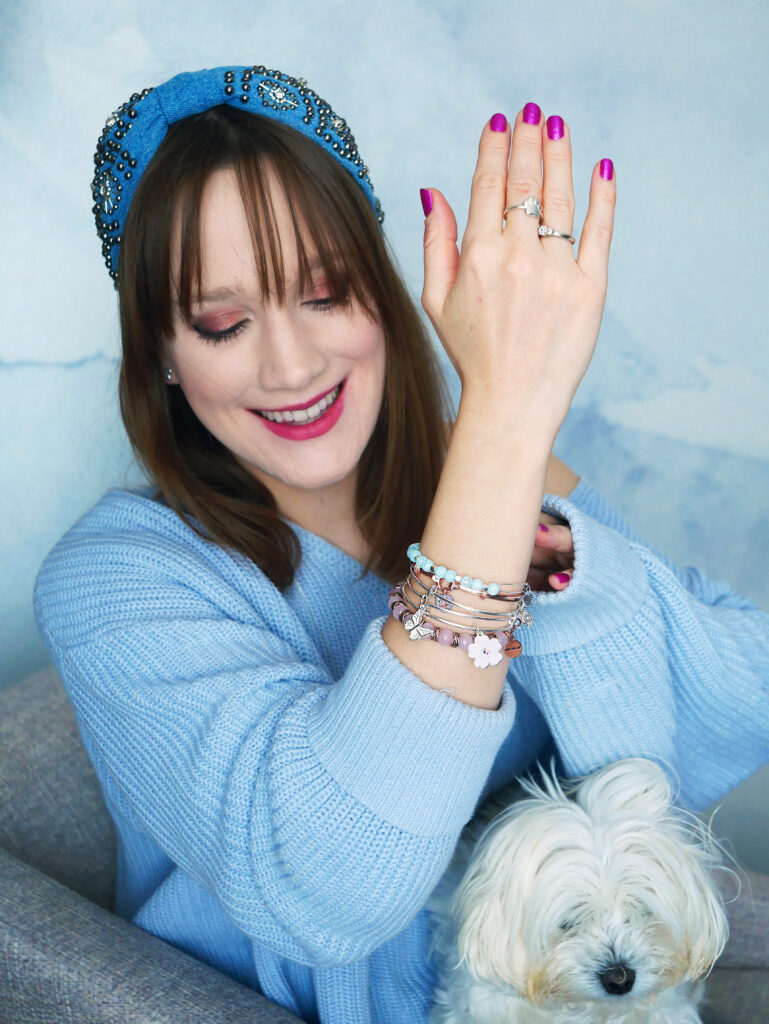 If you'd like to see a closer look at my bracelet stack, check out my new Instagram Reel. I also have an ALEX AND ANI Haul video sharing a look at my new ALEX AND ANI pieces! Some of these pieces were gifted to me from ALEX AND ANI and some of them were purchased by me. You can find the video down below:
Here is the ALEX AND ANI ring I ordered:
Paw Print of Love Alex and Ani Ring – Sterling Silver
This ring reminds me of my sweet Maltese rescue, Alice Haenim! I love having a piece of jewellery that I can wear daily that reminds me of my fur family! This ring also reminds me of my late pets, Ella, Harlow, Zooey and Georgina.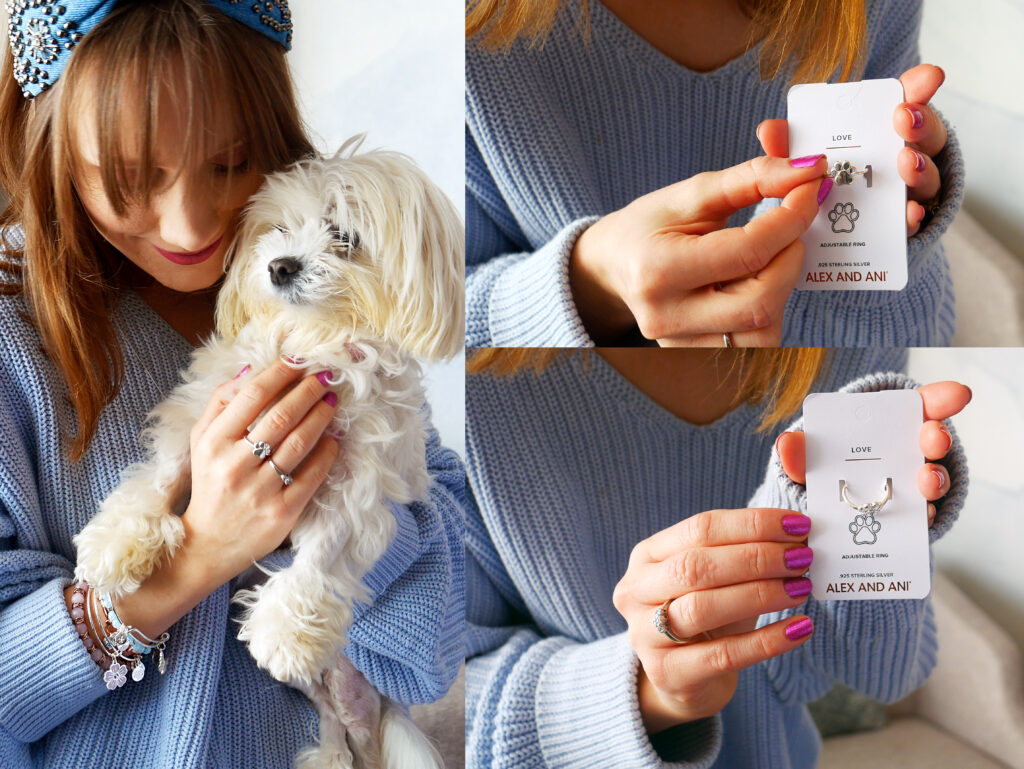 Here is a look at the bracelets I picked out:
Pink Pansy and Crystal Charm Bangle Alex and Ani Bracelet – Shiny Silver
This charm bracelet has a lovely iridescent crystal in the centre. The pansy is a symbol of love and it reminds me of all the gorgeous flowers awaiting us in the coming months. It also reminds me that sometimes to grow, we need to weather the storm.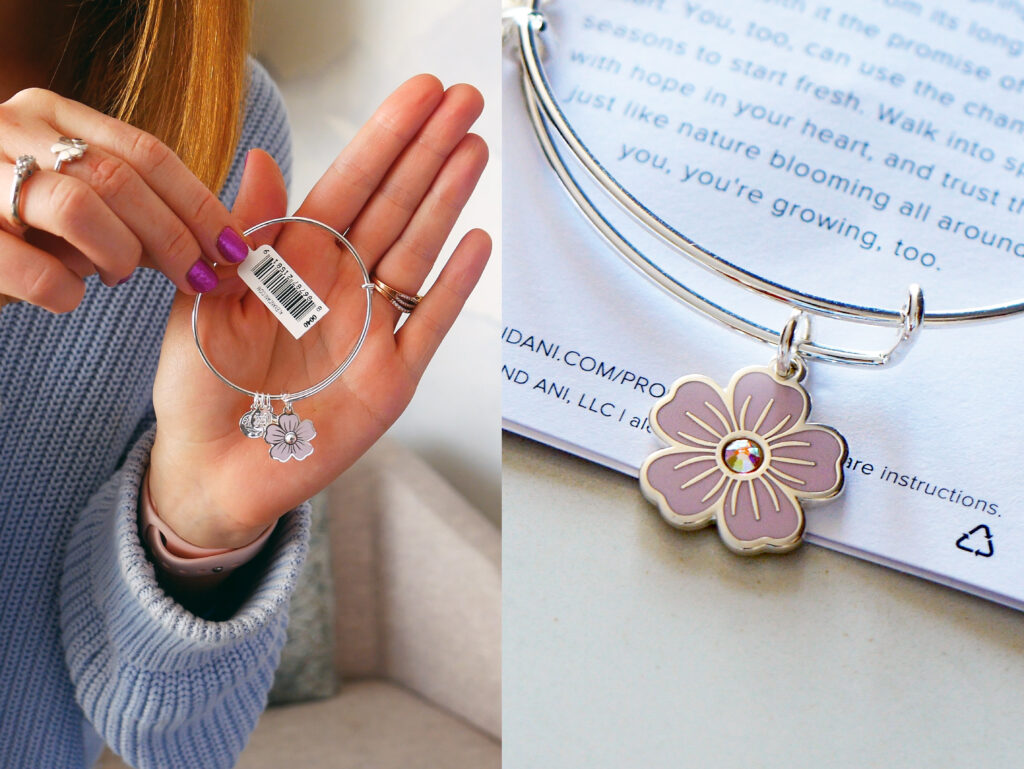 Crystal Heart Clip Bangle Alex and Ani Bracelet – Shiny Rose Gold
I saw this bangle when ALEX AND ANI showed it in the lead up to Valentine's Day! I fell in-love instantly! I love the heart and circle tension clip closure. The circle symbolizes the wholeness of love! It is a beautiful stand-alone piece, but also lovely for stacking too!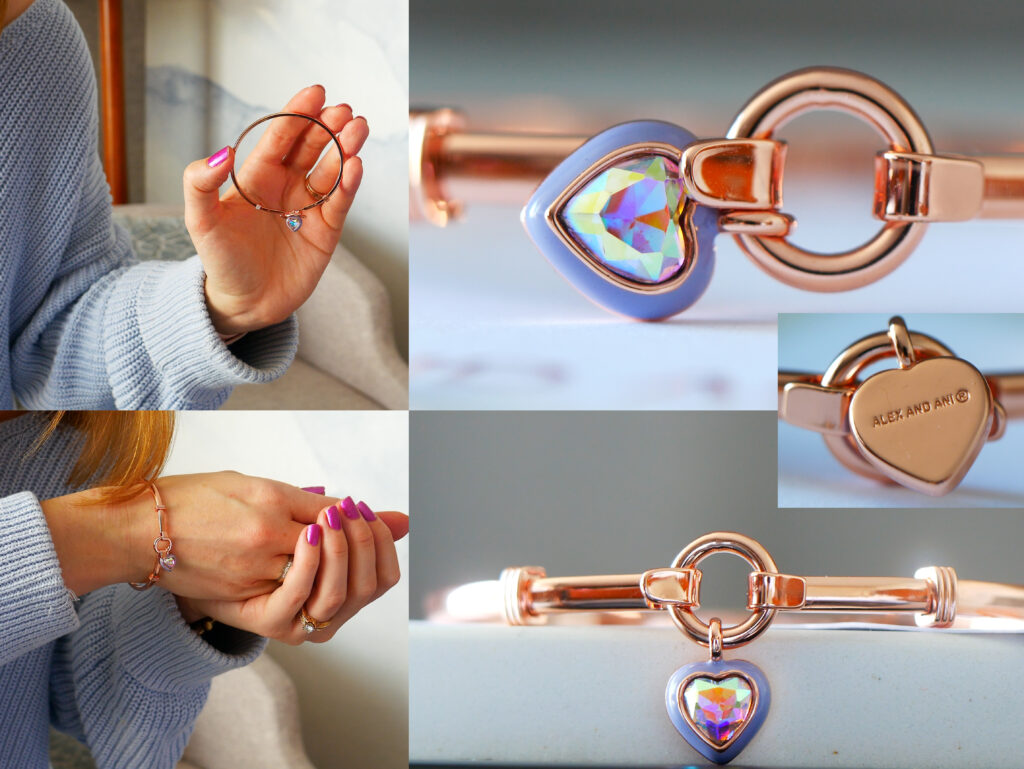 Spring Celestial Beaded Bangle Bracelet – Powder Blue (currently sold out)
This bracelet reminds me of a gorgeous spring sky, dew drops, melting icicles, robin eggs, pastel dresses and mini Easter eggs! I love the colour so much and the texture of the beads are so pretty. They have similar versions of this bracelet in assorted colours too. SO great for bracelet stacking!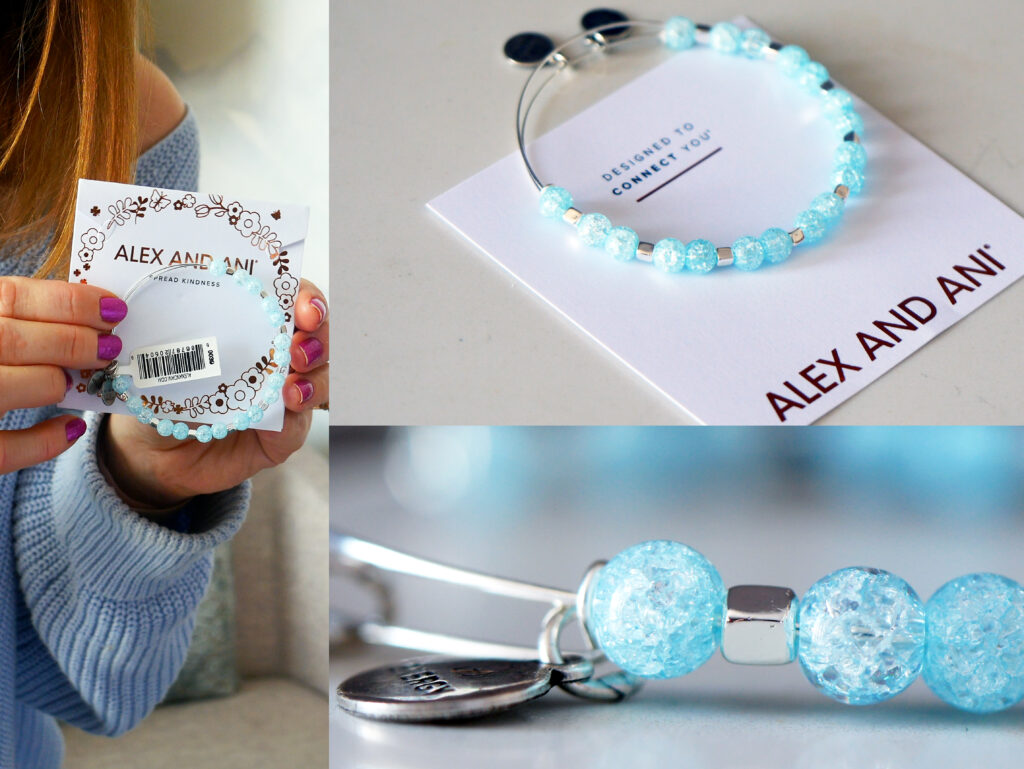 Butterfly of the Month February 2023 Pearlized Butterfly Charm Bangle Bracelet (sold out)
Butterflies symbolize transformation and hope. This bracelet reminds me to keep growing and challenging myself!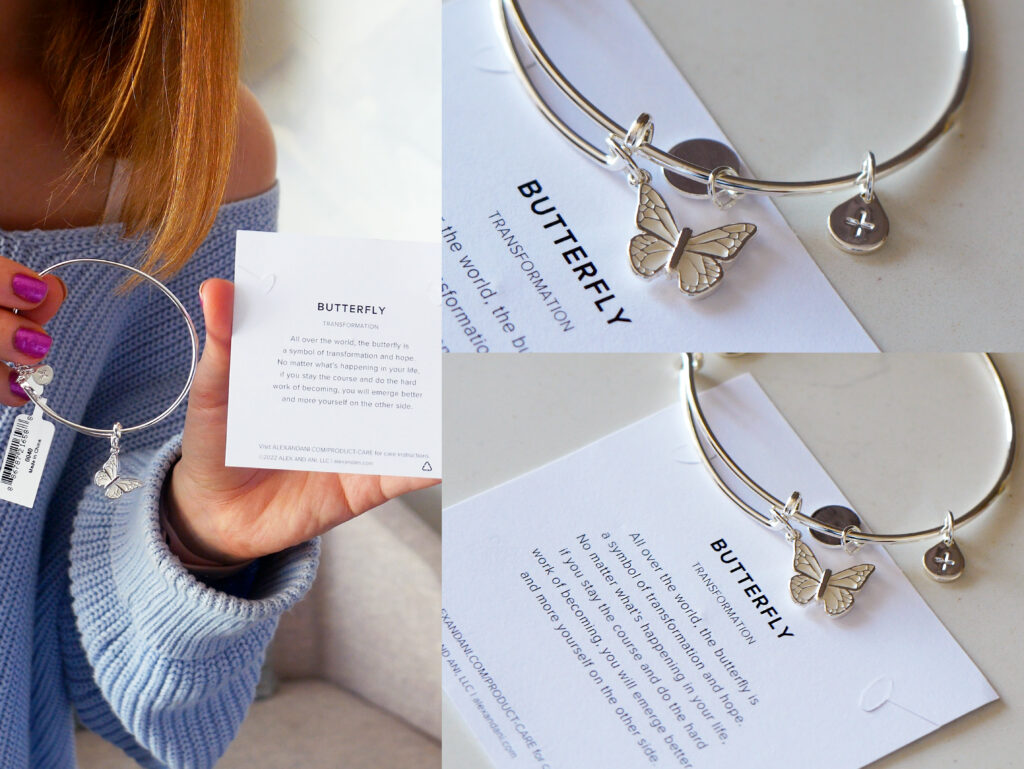 This bracelet is finished with Rafaelian rose gold and features genuine rose quartz gemstones! I love rose quartz jewellery and have quite a few pieces in my jewellery collection. This gemstone represents love and compassion.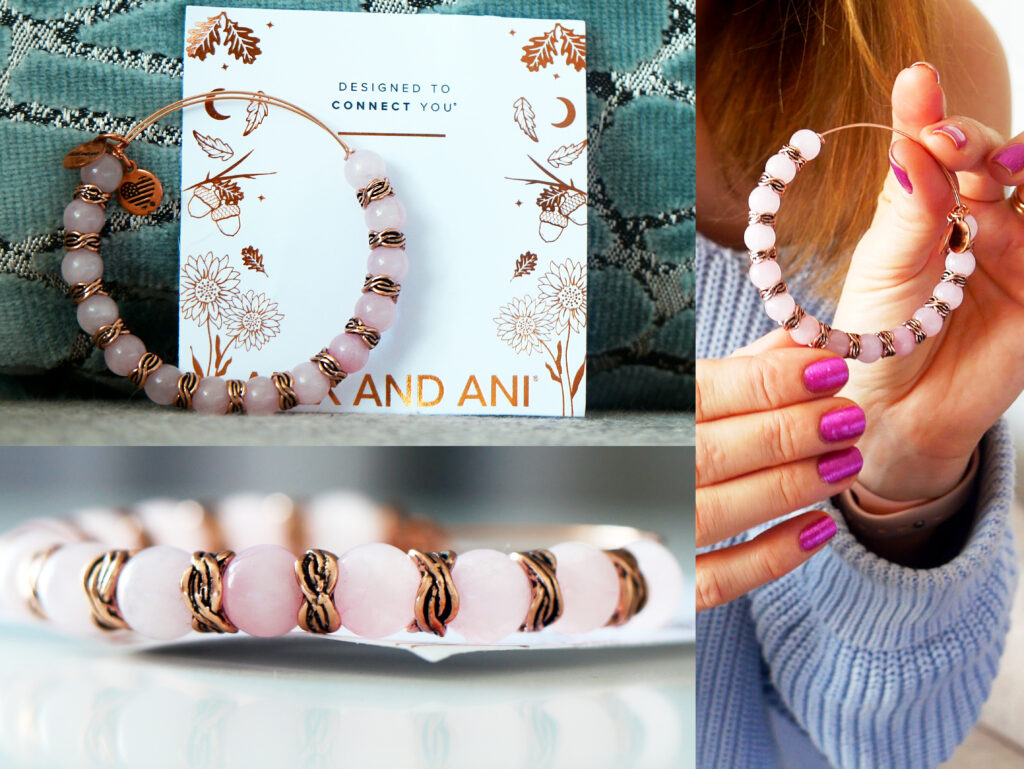 Here is a look at my "Waiting for Spring" themed bracelet stack incorporating all the ALEX AND ANI bracelets together: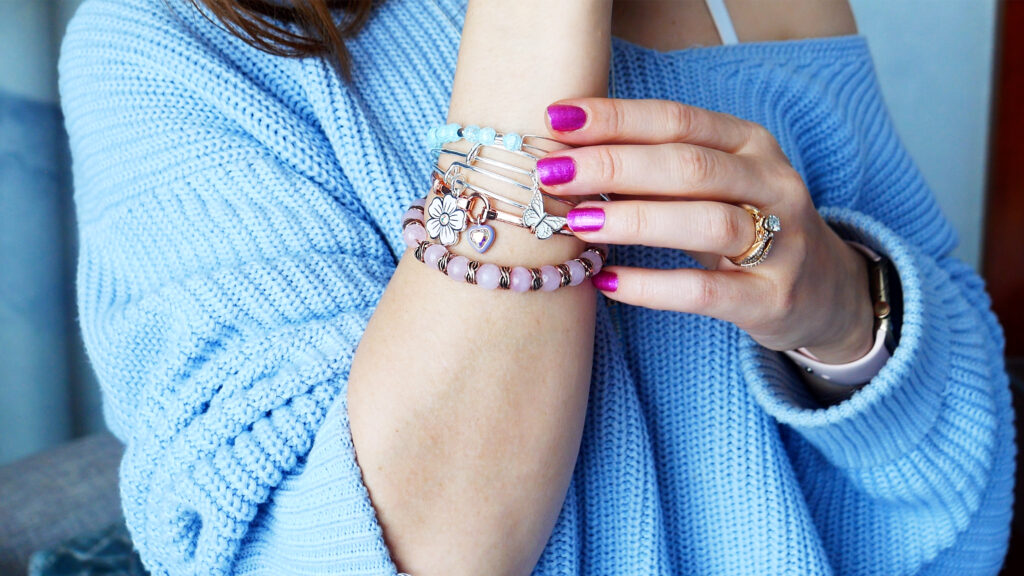 Which bracelet is your favourite and how would you style it?
ALEX AND ANI CHARM JEWELRY
In the video, I also share a look at ALEX AND ANI's charm jewellery line. They have slider charms and charm tags to wear both on necklaces or their charm station bangle bracelet!
I purchased the Initial "A" Slider Charm, the Cross Slider Charm, the Purple Butterfly Slider Charm (not shown) and the Paw Print Slider Charm. I also purchased the Blessed Tag Charm and wore it on the Charm Station Chain Necklace. I didn't realize that this necklace only accommodates the tag charm styles, so I will need to place another order to try the, Create Your Own Pull Chain Clasp Necklace. This necklace style accommodates the ALEX AND ANI Slider Charms (shown below).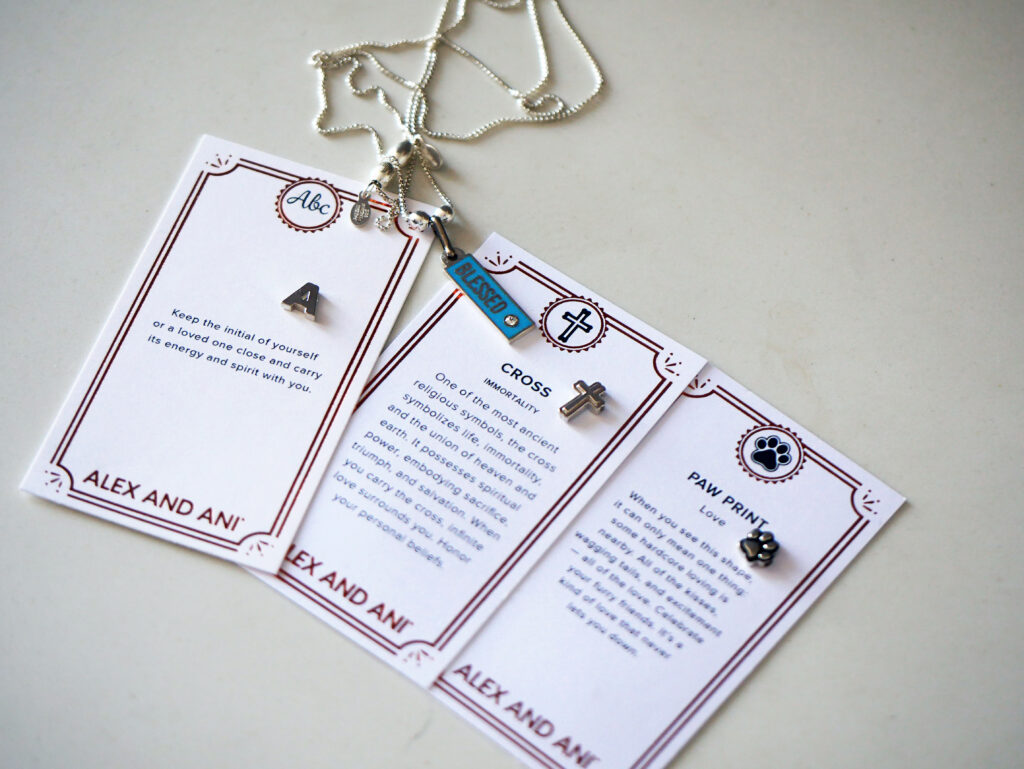 And that is it for today's blog post! Do you own any ALEX AND ANI pieces in your jewellery collection?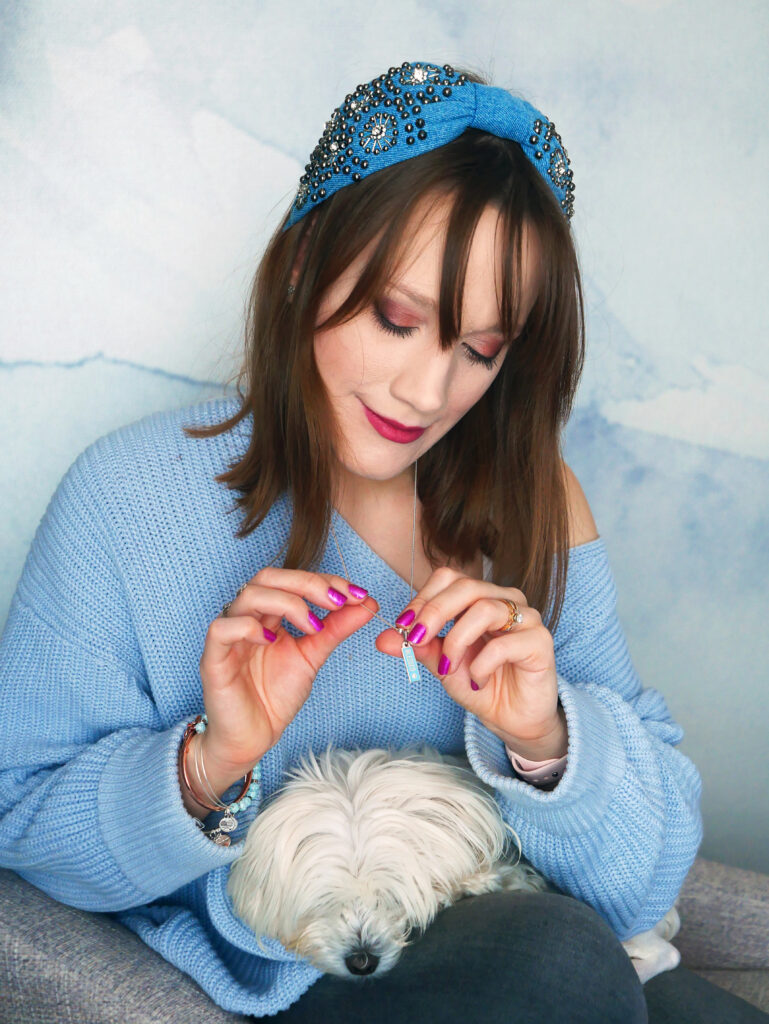 *this post contains some gifted product and affiliate links