DAVIDsTEA Haul | Tasty Summer Teas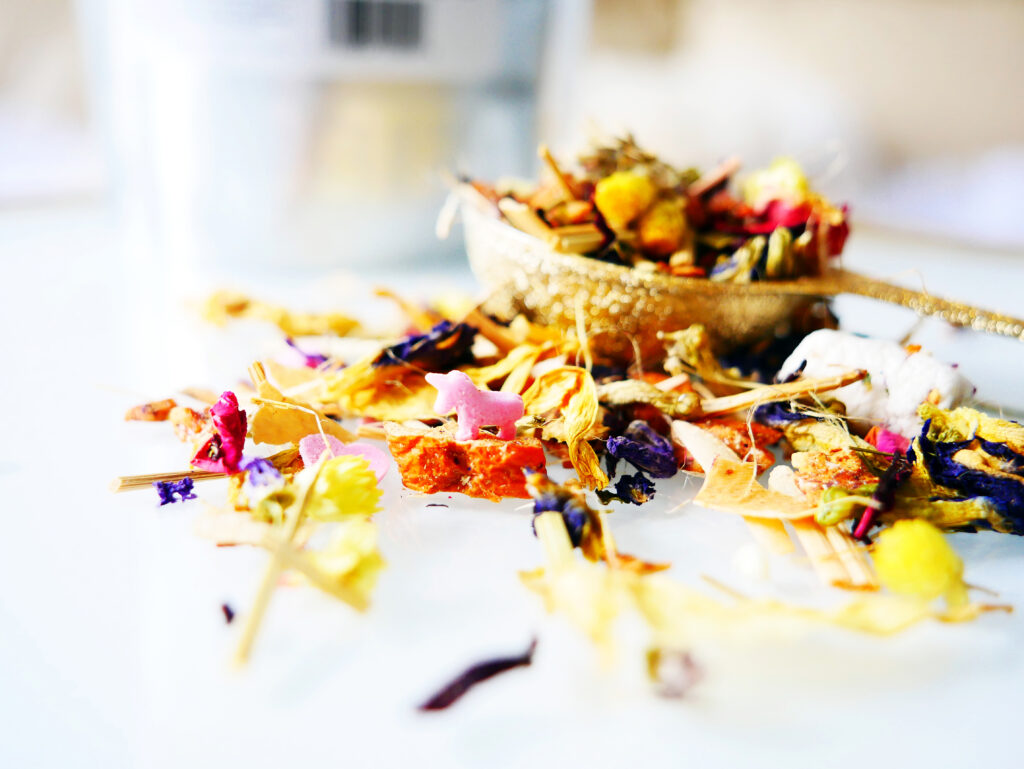 Hello everyone! I hope this blog post finds you and your loved ones safe, healthy and doing well, during this time. <3
In today's blog post (and in honour of #TeaTimeTuesday), I am sharing my recent DAVIDsTEA* haul order (with the help of Ella the Mini Poodle). I needed to stock up on some favourites, but also wanted to try out some new teas too!!!
*As some of you know, I am a huge DAVIDsTEA fan and this past year, I had the amazing opportunity to become a DAVIDsTEA Affiliate. Some of the links, in this blog post will be affiliated links.
So, if you are ready: make sure to grab a delicious cup of tea and let's get started!!!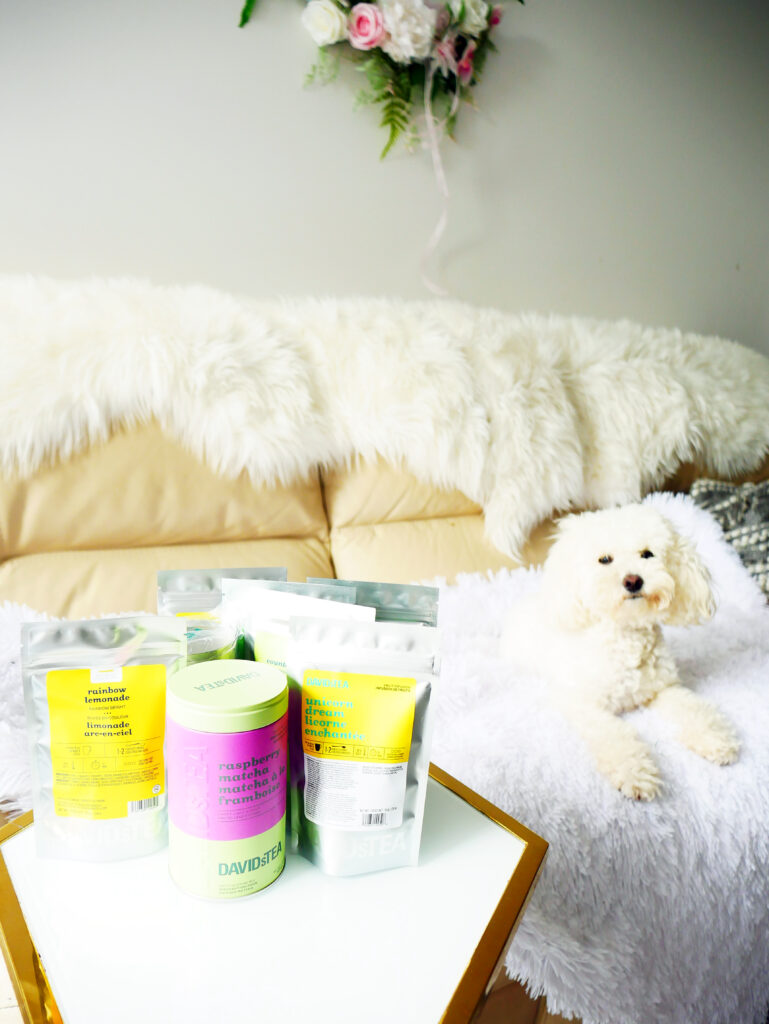 The Matcha Teas: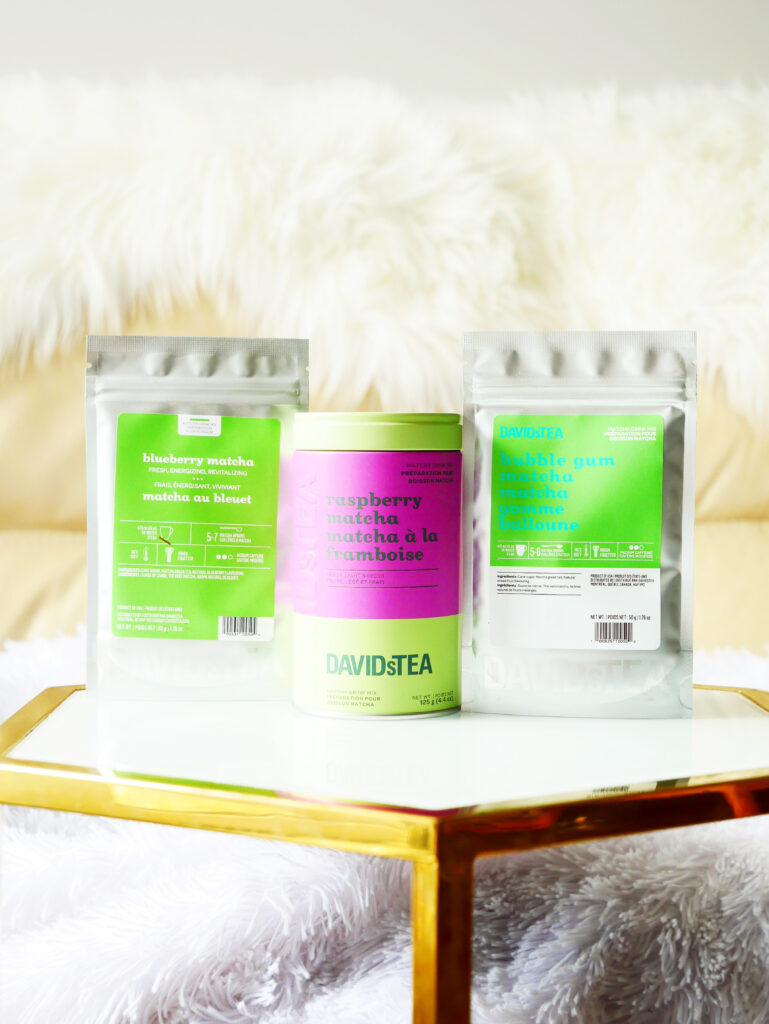 I ordered three matcha teas from DAVIDsTEA. I am a huge matcha lover and enjoy it daily! It provides wonderful health benefits (check out my IGTV video to learn more), but also tastes soo so delicious too!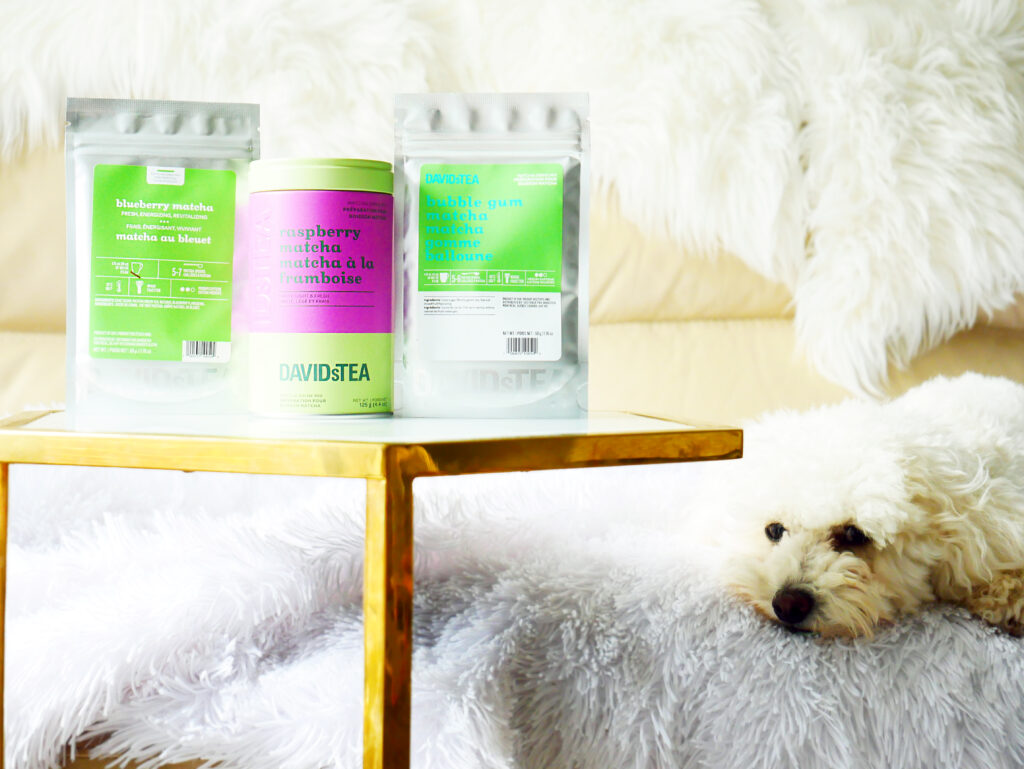 Raspberry Matcha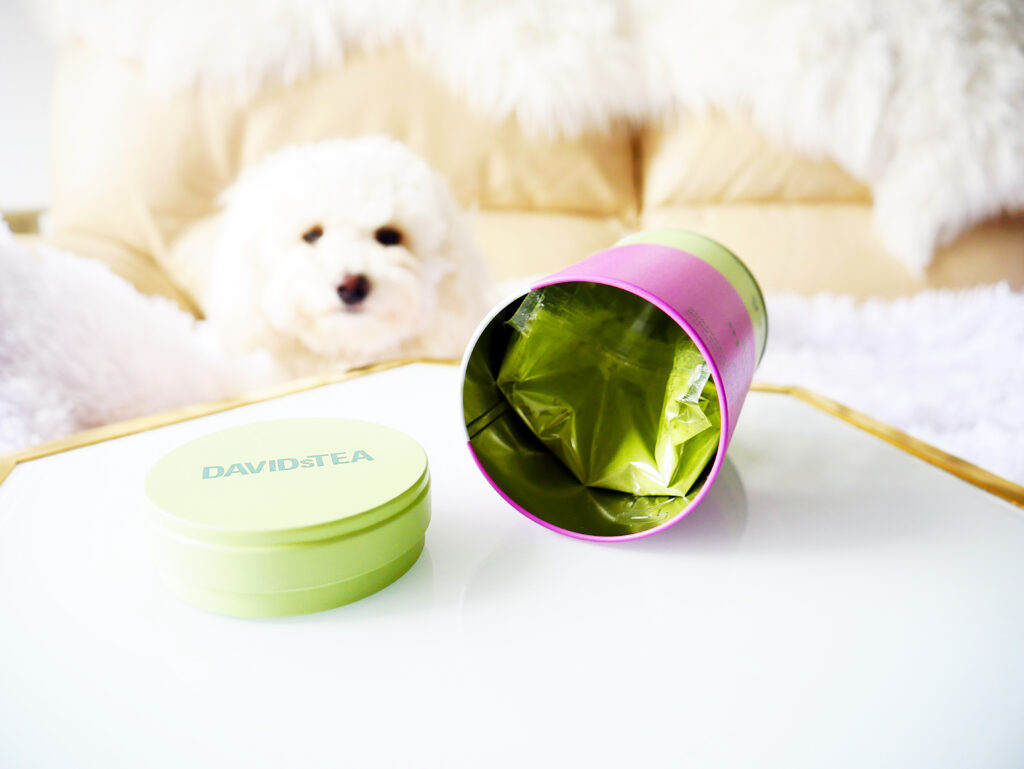 One of the teas I had to stock up on is Raspberry Matcha. You might remember seeing me review and talk about it on my IGTV videos, as well as my last DAVIDsTEA Youtube video.

On IGTV, I made it iced and in the YouTube video, I made it hot. I absolutely love both options, but if I were to recommend how to try it first: make it iced! It is a refreshing, satisfying treat!
We're taking energizing matcha to new heights. Fuel your morning with this fruity and invigorating blend of Matcha Matsu powder, pure cane sugar and the natural flavour of ripe raspberry. Whether you sip it as an iced latte or in your post-workout smoothie, this finely ground flavoured matcha is an easy & delicious way to enjoy the feel-good benefits of green tea.

– DAVIDsTEA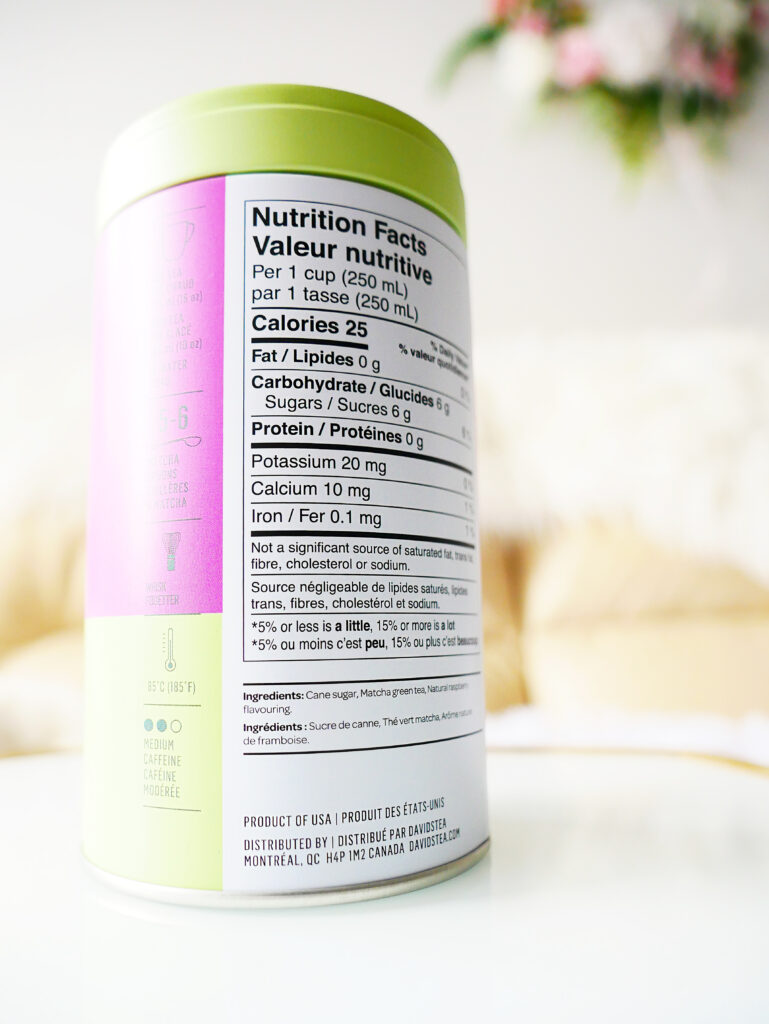 This time, I decided to purchase the limited edition tin of the Raspberry Matcha. This is a tea I plan to always have at home, as long as DAVIDsTEA has it in their collection!
You can also shop by gram below:
Blueberry Matcha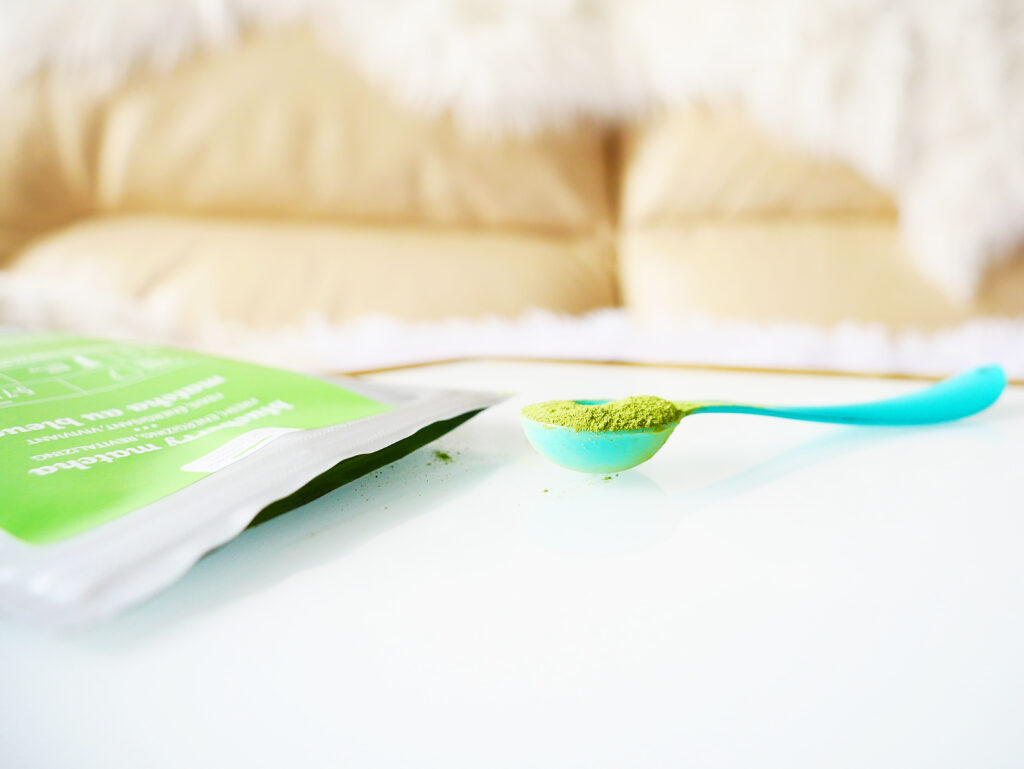 Another matcha tea I needed to re-stock on was Blueberry Matcha. I was long overdue to order some! Like the Raspberry Matcha, it tastes amazing iced or hot. I also like to add it to my vanilla protein smoothies or my dairy free/gluten free muffins.
Kick your summer vibes up a notch with our sweet and revitalizing Blueberry Matcha. Bursting with freshly picked blueberries, mega-healthy matcha green tea and pure cane sugar, it's an iced tea latte waiting to happen. The best part? This deliciously fruity blend is packed with all the energizing and metabolism-boosting benefits of matcha for an instant pick-me-up. Good vibes all around.

– DAVIDsTEA
I ordered 50 grams of Blueberry Matcha. But that was pretty silly of me! I regret not ordering more since I tend to go through it so quickly.
Bubblegum Matcha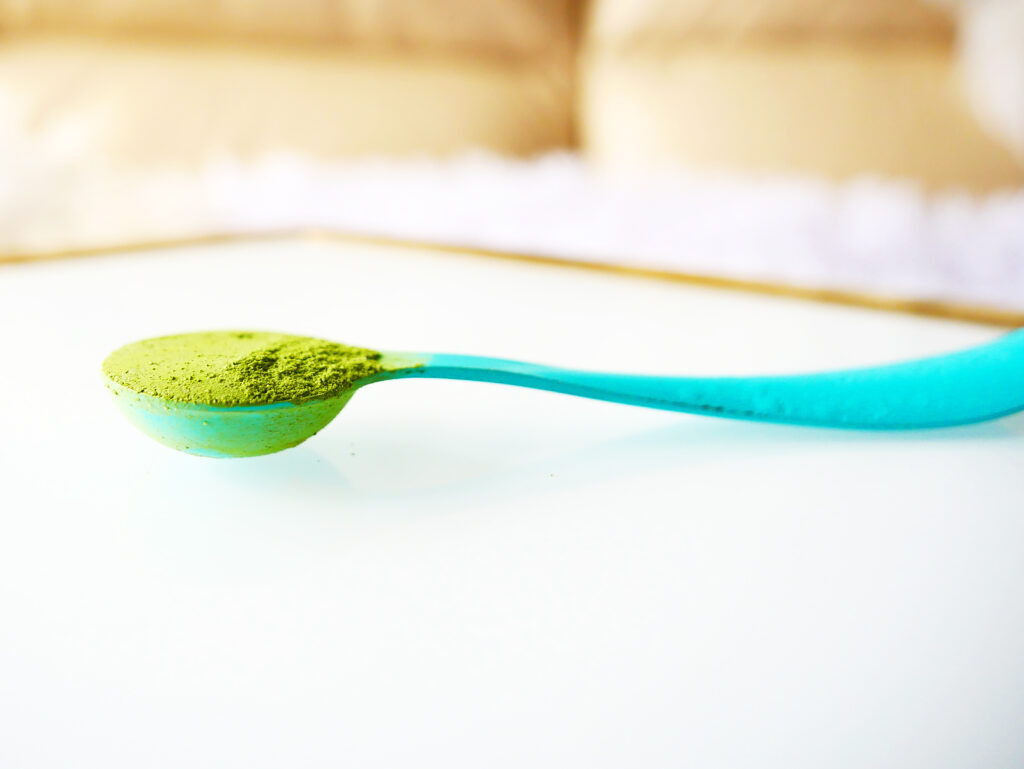 The last Matcha tea I ordered is one that I have been quite curious to try! I had attempted to order it, on my past DAVIDsTEA order, but it sadly was cancelled. This time, I got lucky and was able to get it!!!
Bubblegum Matcha does not sound like a drink I would enjoy hot, but as an iced matcha or popsicle, it sounded very appealing! Both Linda @LSN2 and I were so curious about it. I decided to order 50grams to try it out.
Blue bubble gum fan? Go retro with this cool novelty fruity matcha. It's made with a lively base of finely ground green tea powder – hailed for its energizing & detoxifying benefits – plus a sweet hint of natural apple, pineapple & vanilla flavouring. Try it on ice or add to homemade ice cream or popsicles. No matter how you enjoy it, this one-of-a-kind matcha is the nostalgic treat your taste buds have been waiting for. 

– DAVIDsTEA
It is available by the gram or inside a special limited edition tin:
I have not had a chance to make it yet, but I will keep you all posted! Have you tried it? If so, what do you think?
The Green Tea: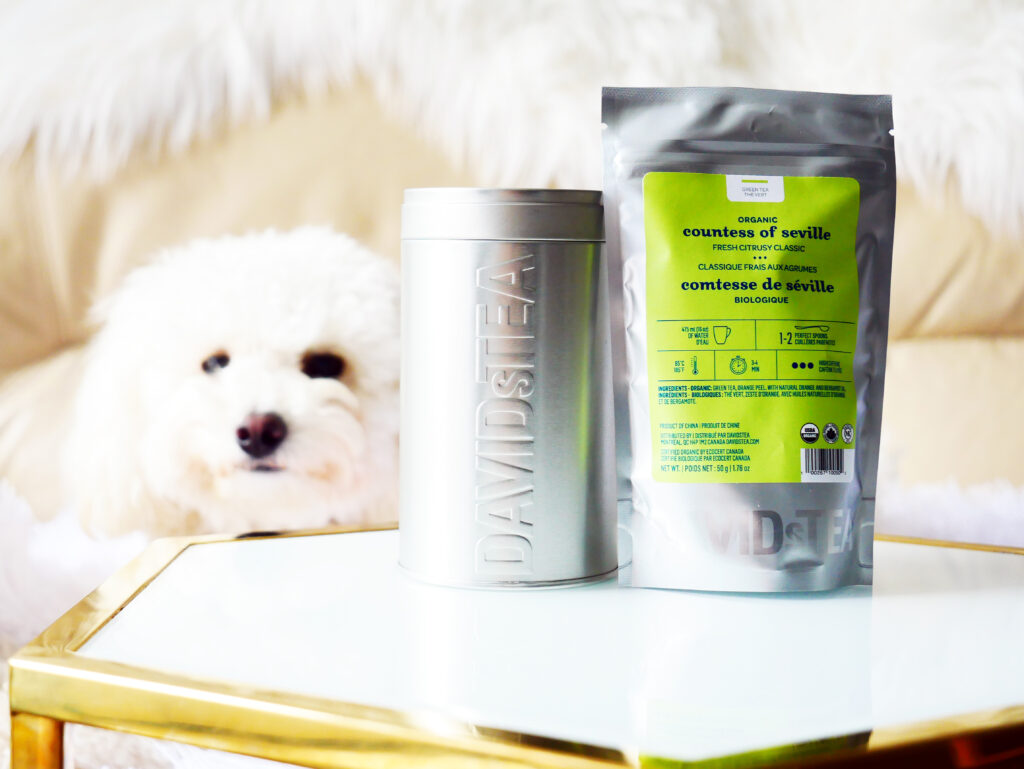 I also ordered another favourite tea of mine: The Countess of Seville. I tend to stock up on this tea quite often! It is a delicious blend of green tea with bergamot and light citrus notes.

This tea is an online exclusive. It does not always show up on DAVIDsTEA's estore, when it is sold out. If you don't see it right away, make sure to check back! As I write this blog post, it currently is sold out and it was harder to find! I ended up doing a google search to find a link for it!
There are so many rumours about Earl Grey and his gallivanting ways. We like this one, about a trip he took to Spain. It's said he fell for the Countess of Seville, a beautiful, dark-haired woman with a penchant for oranges. But did he really woo her with this green tea scented with bergamot, orange oil, cornflowers and orange zest? Either way, it's a sweet, romantic twist on his original recipe. (MK Kosher).

– DAVIDsTEA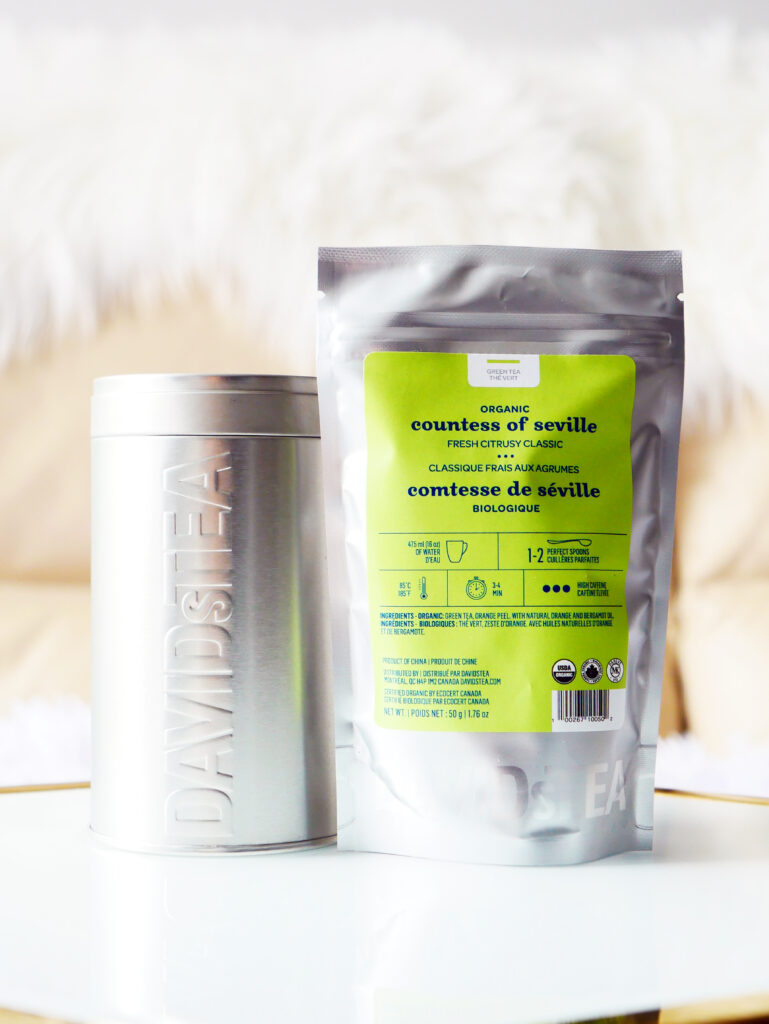 The Fruit Infusion Herbal Teas: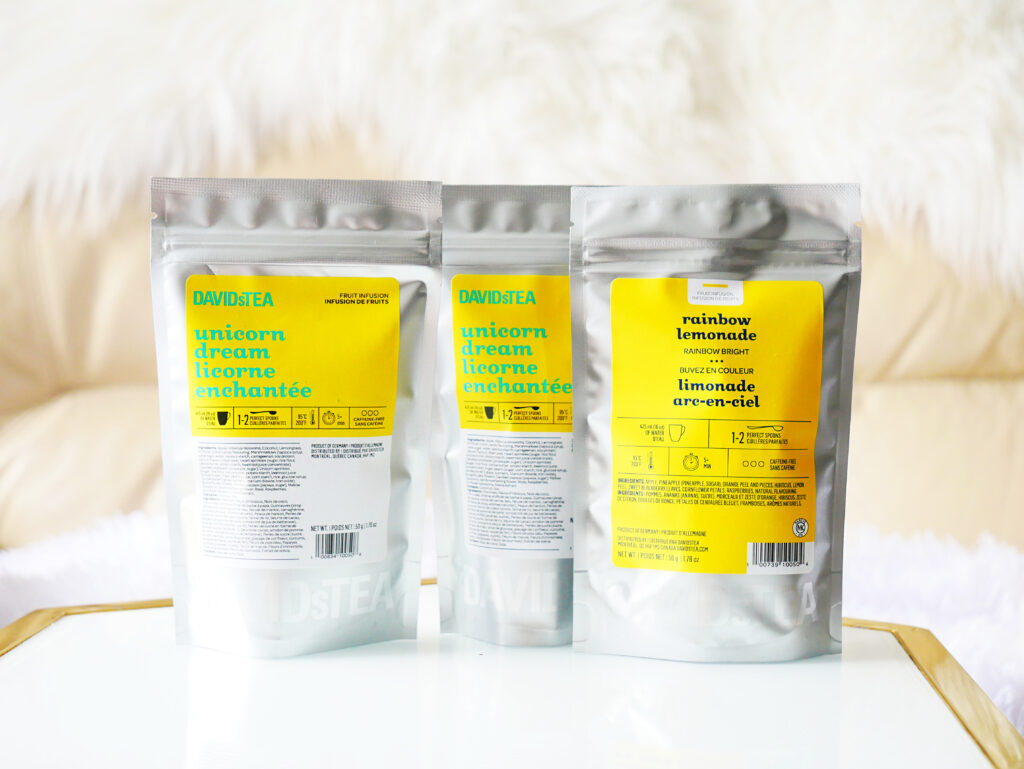 The last two teas I ordered were both fruit infusion herbal teas.
Unicorn Dream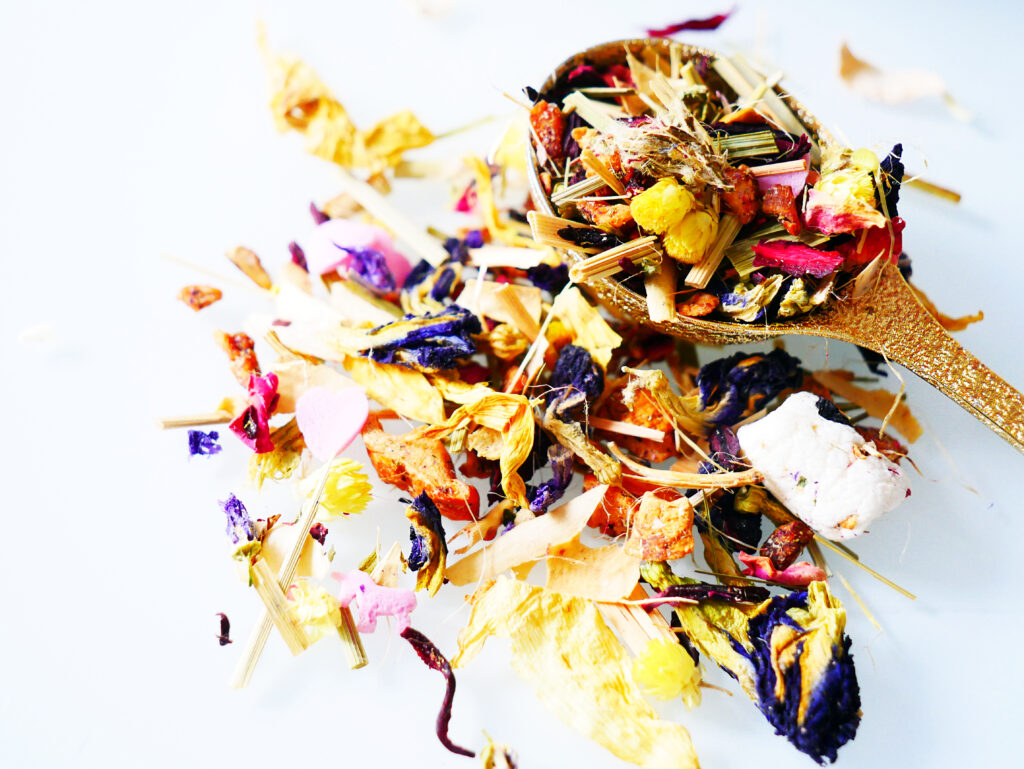 A new fruit infusion favourite is Unicorn Dream! I ordered it in my past DAVIDsTEA order and I became addicted! I especially love this tea iced, but it is delicious hot too. This tea is quite sweet and very flavourful. Usually, I am not a fan of teas that have stevia added, but this one is an exception! I also think it would taste delicious as a popsicle too.
Warning: This tea will add some magic to your day. Our caffeine-free fruit infusion is filled with smile-inducing ingredients – from blue butterfly pea, yellow everlasting flowers & pretty pink hibiscus blossoms to unicorn & heart-shaped sprinkles. The result is an enchanting & addictive herbal tea that's tart and lightly citrusy, with dreamy notes of sweet cotton candy and creamy marshmallow.

– DAVIDsTEA
Not only does this tea taste magical, it looks magical! It is very colourful and has adorable unicorn and heart shaped sprinkles, marshmallows and even glitter balls that add sparkles to your tea!!!!

You can watch my reaction to the sparkle in my IGTV video.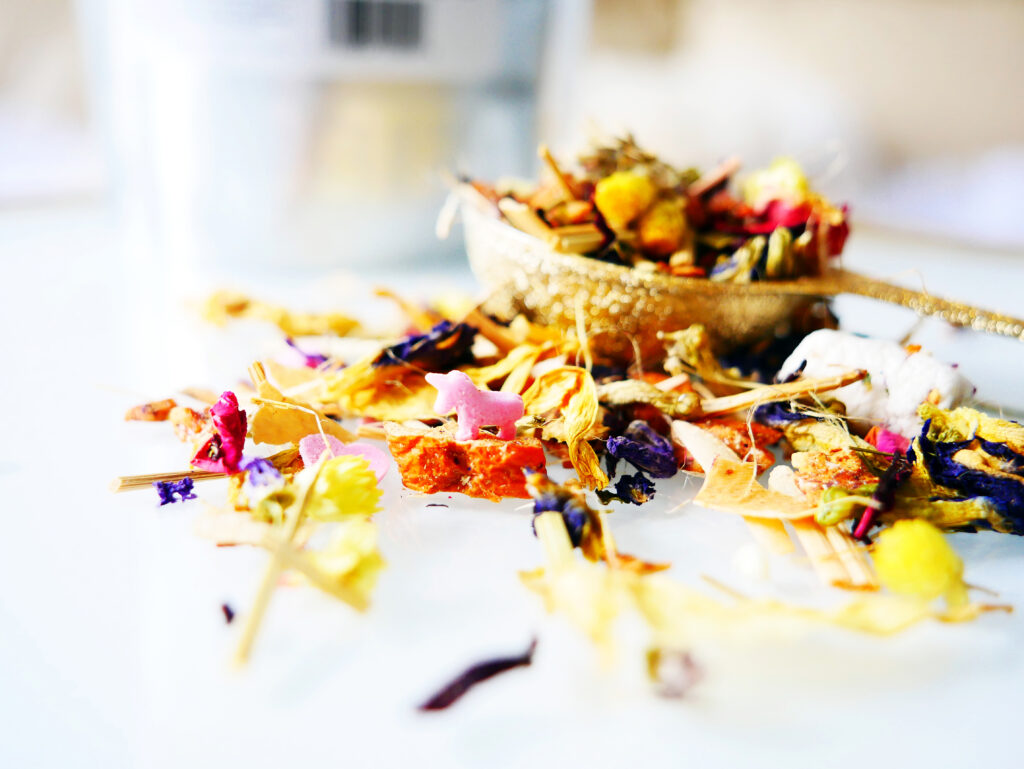 Unicorn Dream is also available inside a limited edition tin, but you can also purchase it by the gram, like me:
Rainbow Lemonade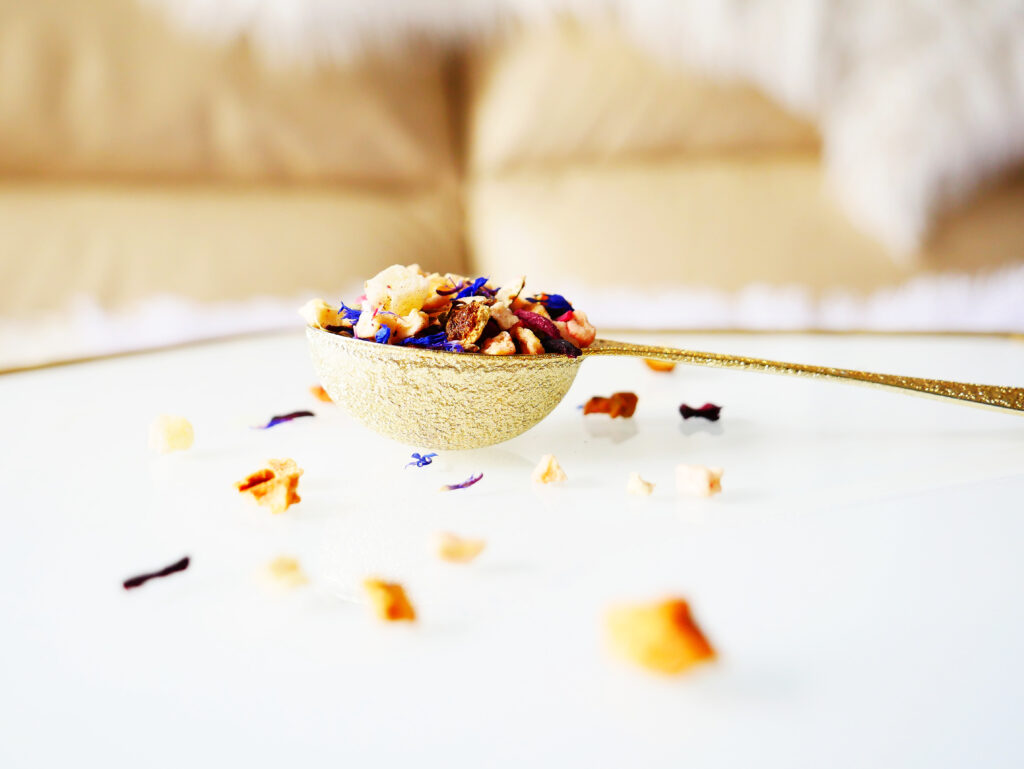 The last tea I have to share with you is one that is also packed with flavour. It is called Rainbow Lemonade.

I could not wait to make it! I made it iced first and it had a delicious tangy, but sweet vibe to it! I also think it is beautiful to look at!

I also enjoyed it hot and it was delicious too, but honestly…I think this tea is a great iced tea choice for your Summer afternoons!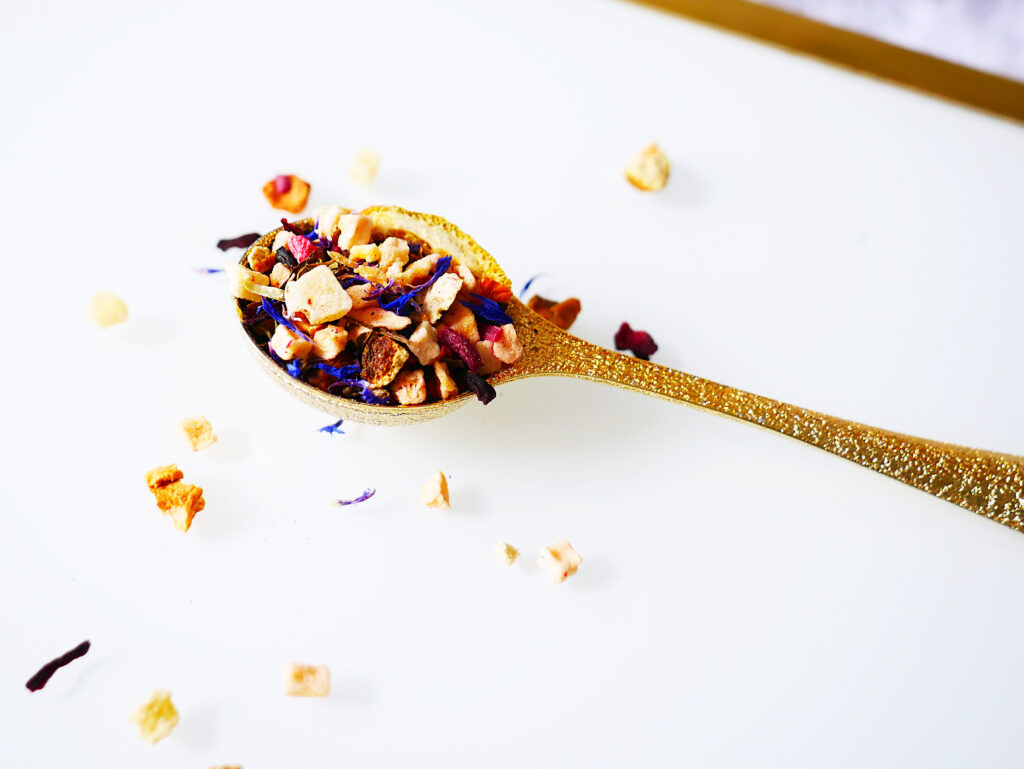 Get your ice cubes ready – this next-level lemonade iced tea is about to add a mouthpuckering twist of flavour to your summer sipping. Think ripe and juicy citrus, a tropical splash of pineapple, and a sweet hint of raspberry. Tart and refreshing, this caffeine-free tea tastes amazing straight up iced or with a little extra somethin' somethin'. Get ready to see some rainbows with this one. What makes it great With its fruity twist, this lemon iced tea is a fresh and delicious substitute for the classic store-bought lemonade. For those days when you've got company, cool off your guests by brewing up a big pitcher with ice and lemon slices. It's caffeine-free so the kids can get in on the action too!

– DAVIDsTEA
And that concludes this blog post! I hope you enjoyed seeing the selection of teas I ordered.

Have you tried any of these teas? If so, which ones do you love?