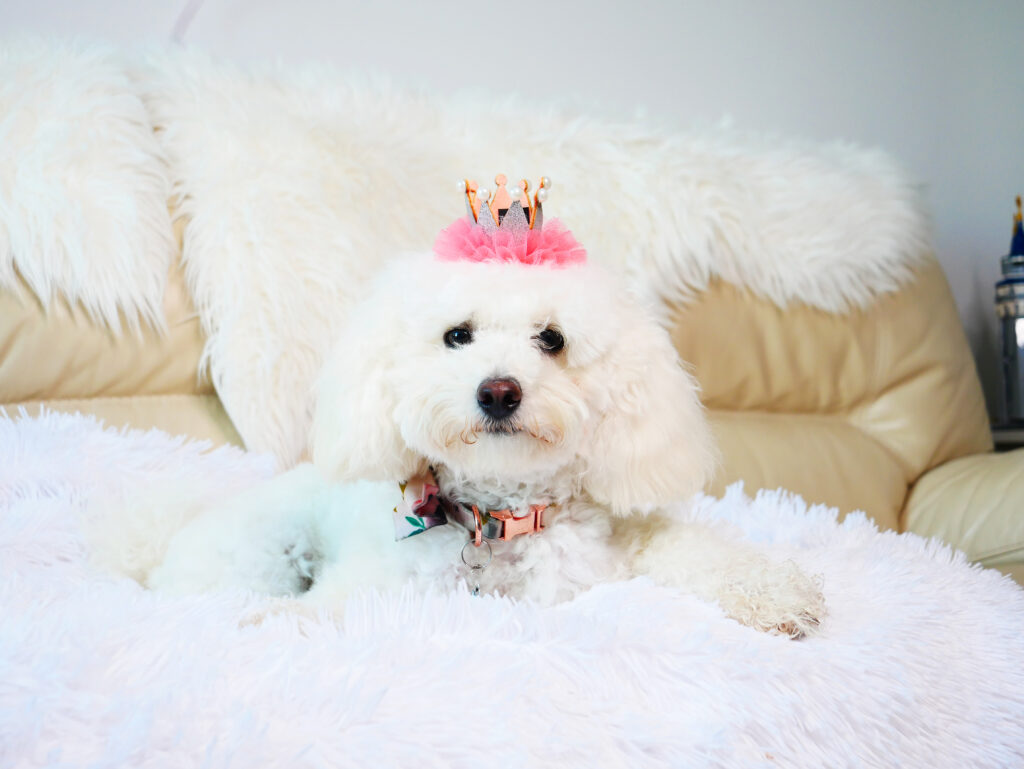 Hello everyone! I hope this blog post finds you and your loved ones safe, healthy and doing well, during this time. <3

This past Tuesday, we celebrated Ella turning one! She was born on May 26th, 2019. I had originally planned on having a Dog Birthday "Paw-ty" with family and friends, but with recent events, my husband and I planned a fun afternoon at home, just the four of us. It consisted of tasty treats, presents, walks, games and lots of cuddles!

In today's blog post, I am going to share some photos from her special day, and the gifts we surprised her with!
Happy Birthday to Ella!
I couldn't help but order Ella a special birthday accessory to wear. I went with a cute clip on princess crown from Amazon. It had little pearl accents, pink frills and was a perfect size for a miniature poodle. Doesn't she look so cute and regal with it on?

Ella was great at posing with this light-weight crown for photos, but for longer wear it was prone to falling off when she would shake her head. It has a small clip closure.
Before Ella's Birthday "Paw-ty", I decided to take some cute photos of her and her sister Georgina. Ella took this as an opportunity to get a quick nap in, before the festivities started. At this point, she still wasn't sure what "Birthday" meant. I think Georgina tried to explain it to her, in Guinea wheeks!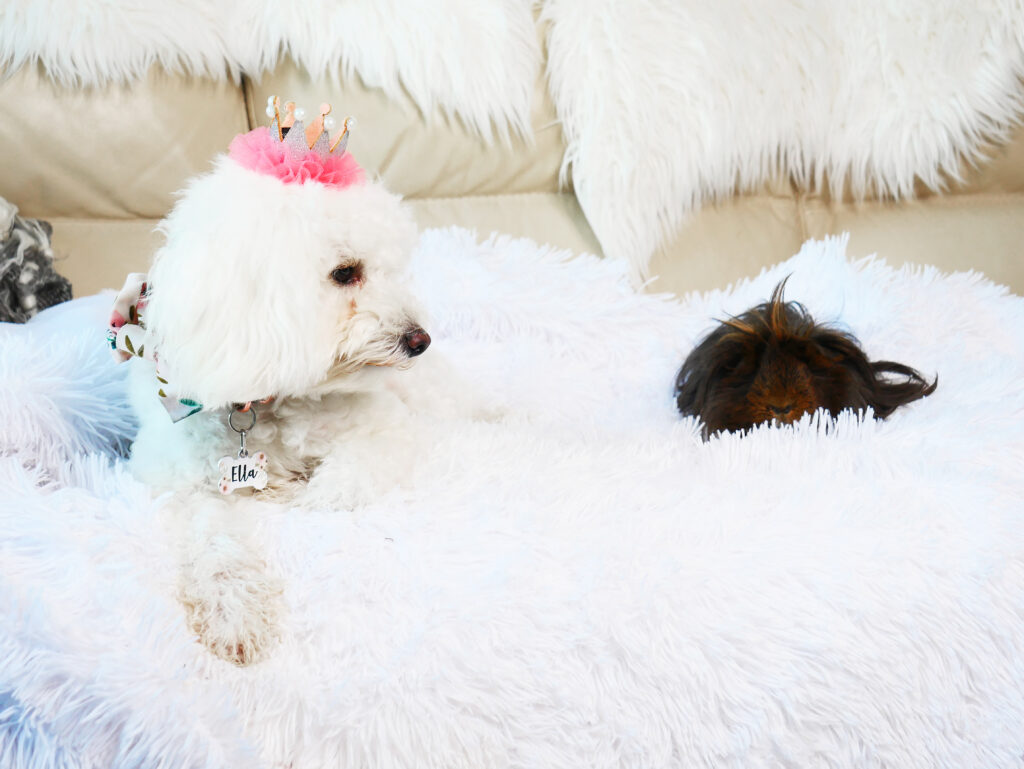 Georgina had a lot of fun snuggling into the shaggy white blanket, while I was taking photos. She was so happy and carefree.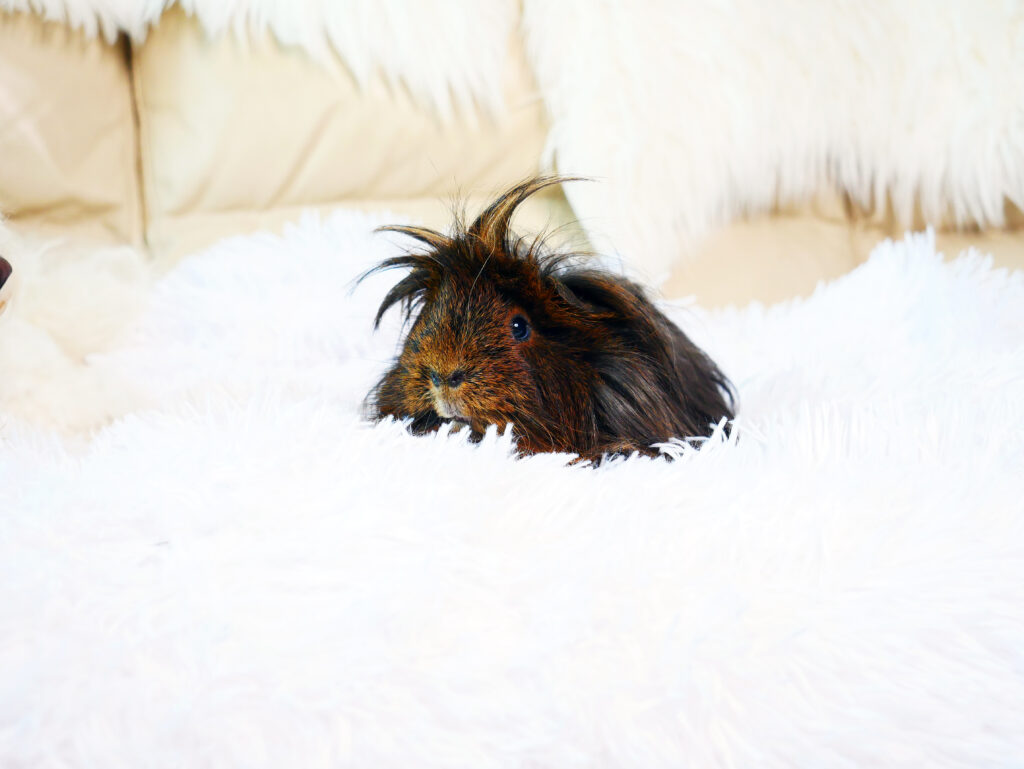 Here is a video of Ella and Georgina together:
When my husband finished his last meeting, it was officially "Paw-ty" Time!!! We went outside to enjoy the fresh air (it was a sunny afternoon) and had Ella open her birthday presents! She was quite curious about the items wrapped in tissue paper. She remembered from Christmas that fun surprises are usually inside!
We had so much fun watching her open up the tissue papers and pull out her presents. She was so excited about her new toys and couldn't wait to play with both of them.
The first gift she opened was her Zippy Paws Birthday Cake pink plush toy with a fun sounding squeaker. It has one candle detail on it, perfect for a first birthday! I also ordered this on Amazon (a few weeks before her birthday), since it was available for fast Prime shipping, as our mail service has been slower and I didn't want to take a chance on it not arriving on time.
The second present was a Zippy Paws toy I got Ella, back in mid-February. It is an interactive burrow toy with a "three little pigs" theme. It has three squeaky plush pigs inside a "grey house". I saw it at Winners and knew it would be a special birthday present for her. Ella is a huge fan of burrow and interactive toys.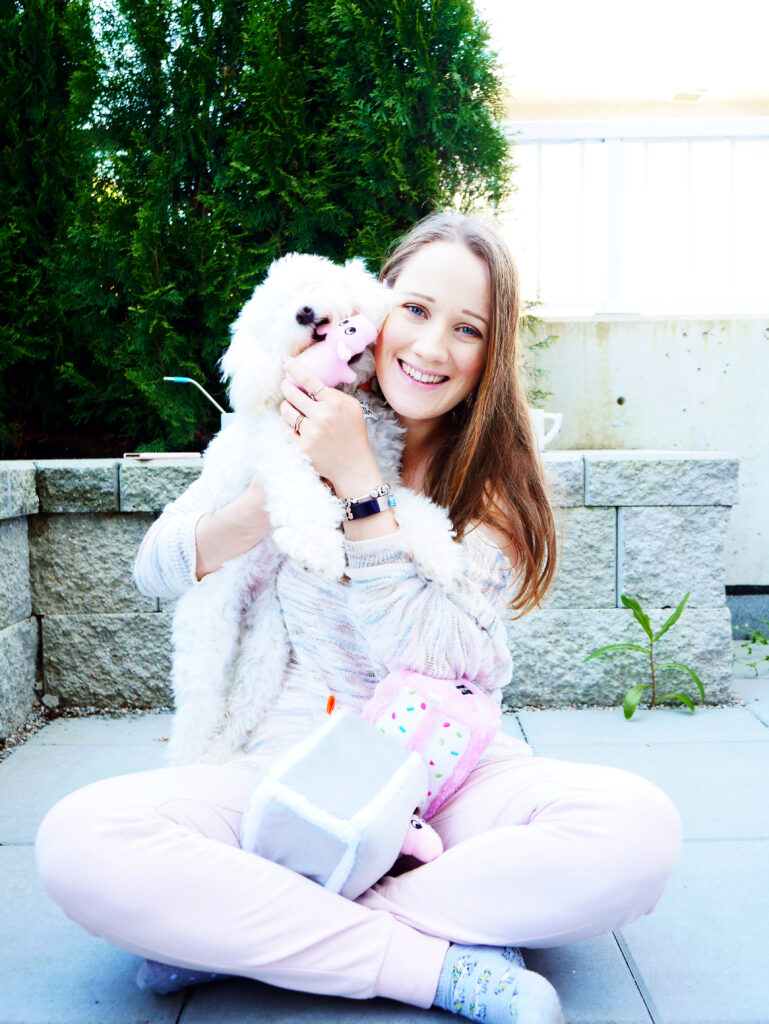 Zippy Paws is my "go to" for Ella's toys. She loves their interactive burrow toys especially. We have quite a few, including the Holiday Burrow Hot Cocoa and the Burrow Bunny n Carrot. She loves trying to get the adorable squeaky plush toys out and playing catch with them! They are well made. We also have a burrow "Pumpkin Spice Latte" that we got from Petsmart. It is so cute, it has three chubby pumpkins inside.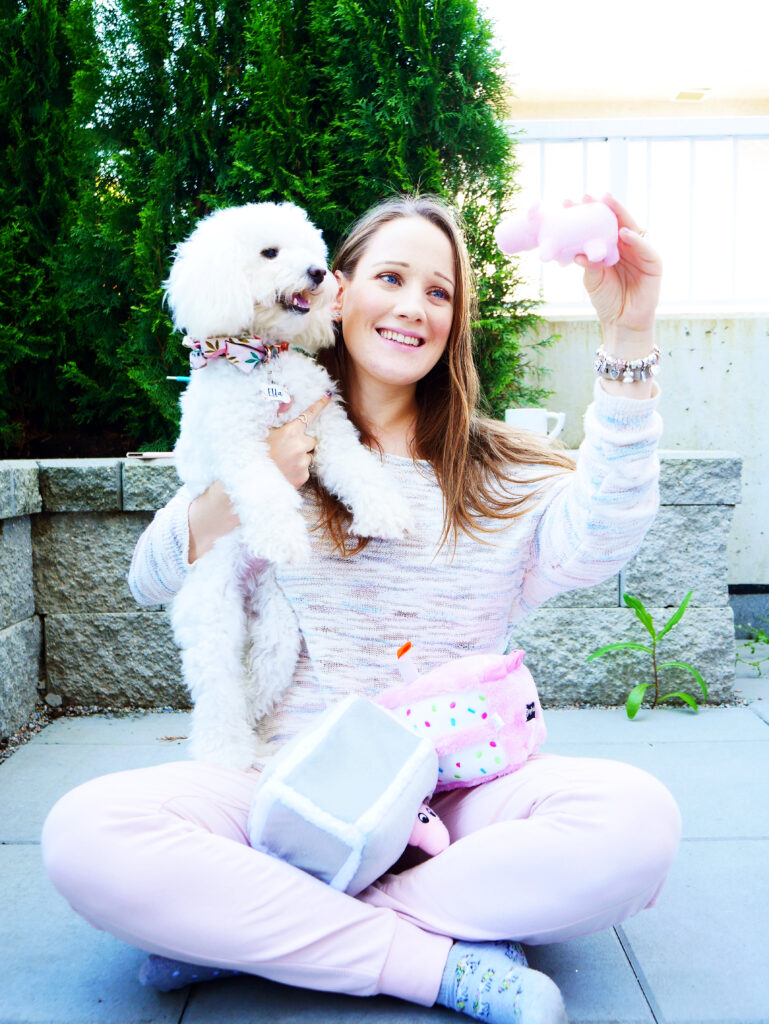 After spending a fun afternoon playing with Ella, we went for a car ride and picked up some bubble tea for us and a dog-friendly peanut butter treat for her. Later on, we went for a nice long walk and enjoyed the last bit of sunshine before it set.
We had such a fun day celebrating Ella. She is a huge blessing and gift in our lives and it was fun to have an excuse to extra spoil her. It is safe to say, she now knows what "Birthday" means.