Disney Magic
,
Disney x Pandora
,
Disney x Pandora
,
Ella Adventures
,
Ella Style
,
Jewellery
,
Pandora
,
Pandora
,
Pandora 20
,
Pandora Bracelets
,
Pandora News and Updates
,
Pandora Reviews
,
Pandora Style
,
Pawfectella
,
Pawfectella Everything!
,
Uncategorized
Pandora 20 | The Stars Charm | Wish Upon A Star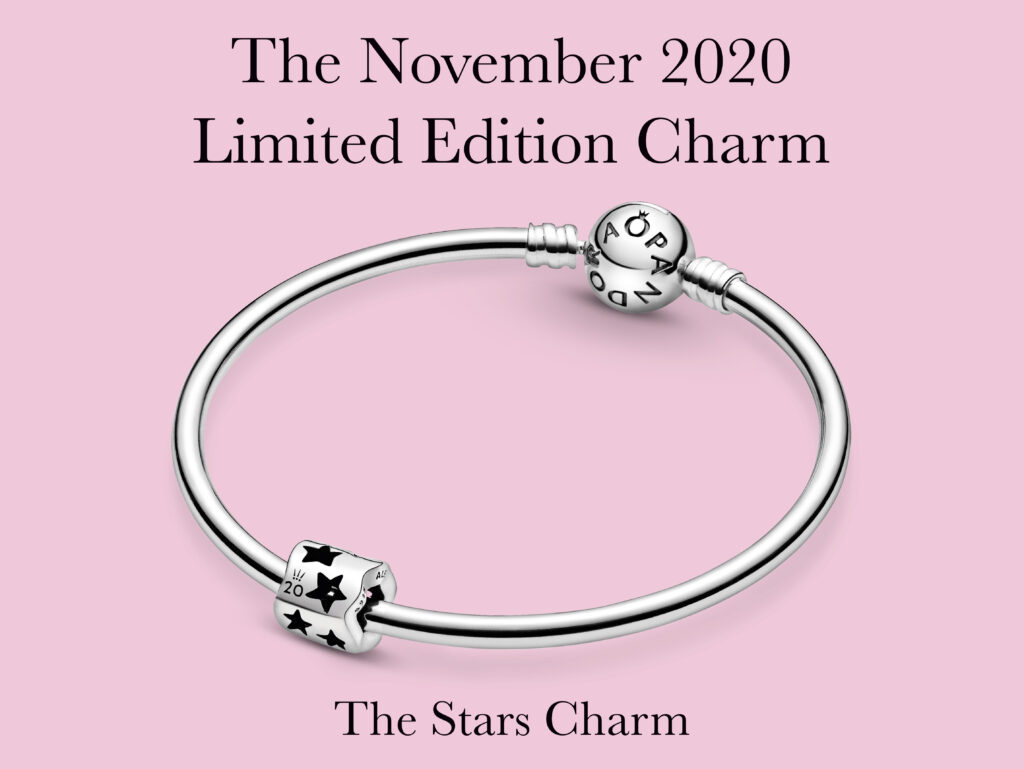 I hope everyone is staying safe and healthy during this time.
I hope this blog post adds a smile to your day!
This year, Pandora continues to celebrate their 20th Anniversary of the Pandora Moments charm bracelet. This charm bracelet was first released in 2000. To celebrate 20 years of collecting, Pandora is going through their archives and bringing back a vintage charm every month in 2020. All 12 of the charms will be limited-edition. Each charm will be available only until it has sold out, which makes all 12 charms an absolute must for a Pandora collector!
I am so excited to continue celebrating Pandora's special milestone! To celebrate Pandora's anniversary, each month, I share a special story behind a charm in my collection, and reveal what the limited-edition Pandora 20 Charm is!
So, make sure to grab a cup of tea…and let me share this month's charm.
* All 2020 Limited Edition Stars charm photos are provided by Pandora *
The 2020 Limited Edition Stars Charm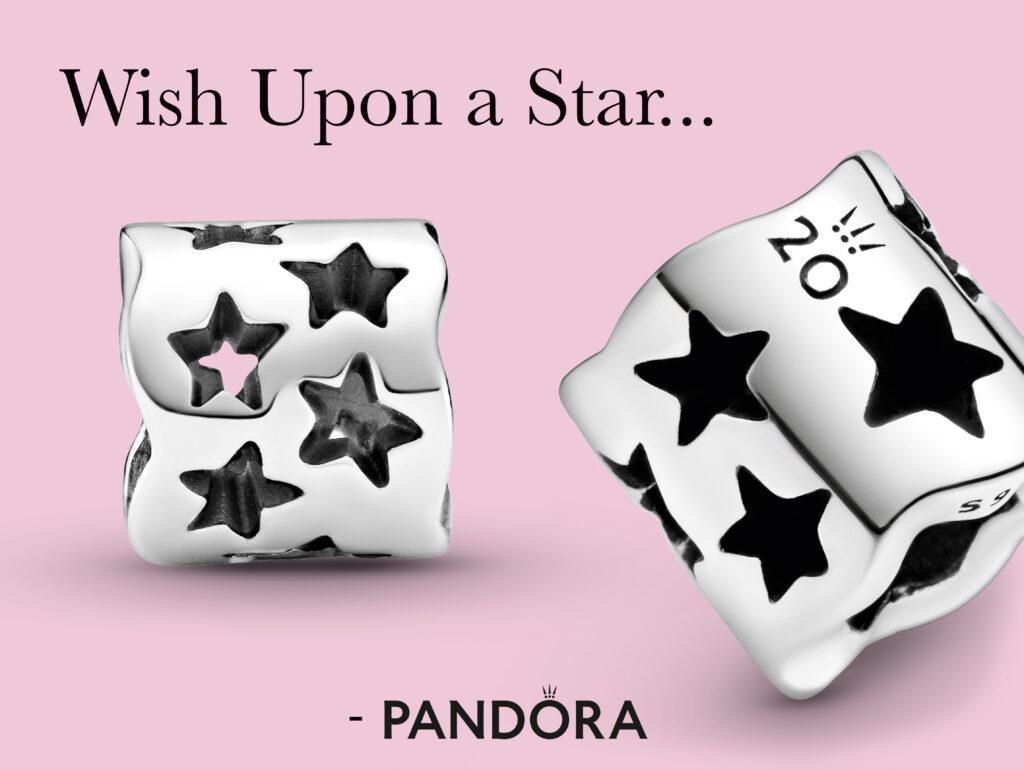 It's November 20th! Today we celebrate the relaunch of the Stars charm! The original style number of this vintage charm was 790348 and was originally known as the Seeing Stars charm. It was made in both a 14 ct. gold charm, as well as a sterling silver version. The 20th Anniversary Stars charm is done in sterling silver. The Pandora 20 hallmark is displayed on the front of the charm, near the far left corner.
Prices from $35 USD and $40 CAD.
Each 2020 Stars charm comes with a certificate, confirming its authenticity.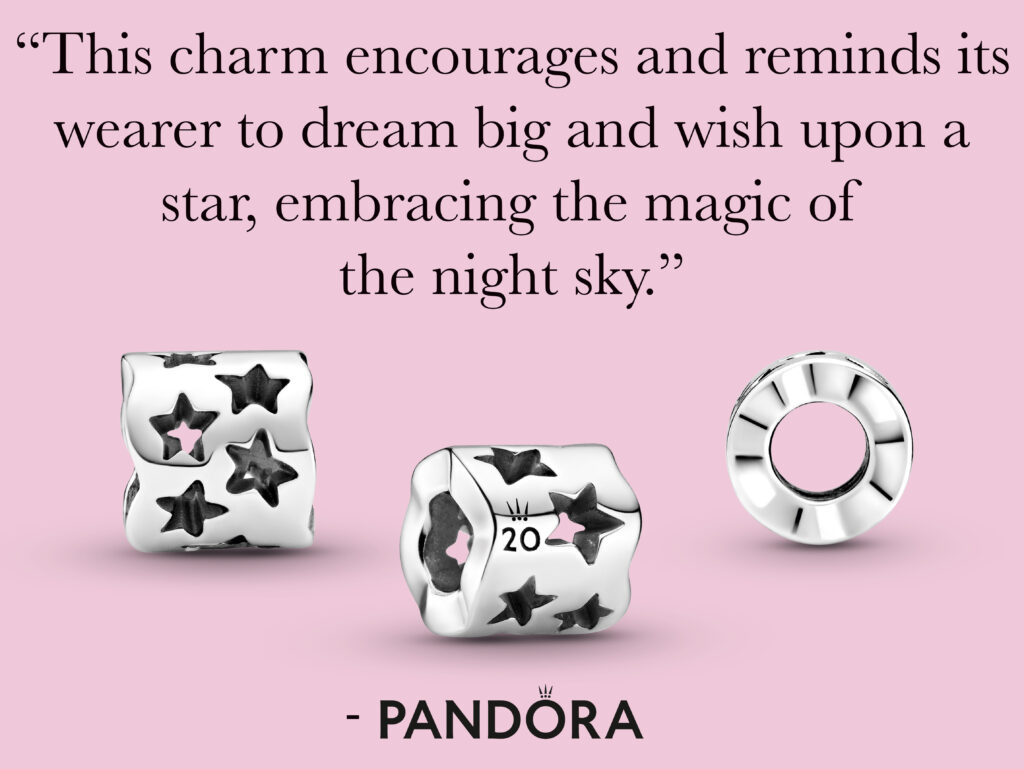 The 2020 Limited Edition Stars Charm is available globally on Pandora's estore and in selected Pandora stores. Very limited numbers are available, so it's best to purchase today, November 20th, 2020…if its not already sold out!
Click HERE to shop (EN)
Click HERE to shop (FR)

*please note that these charms are very limited. Until supplies last.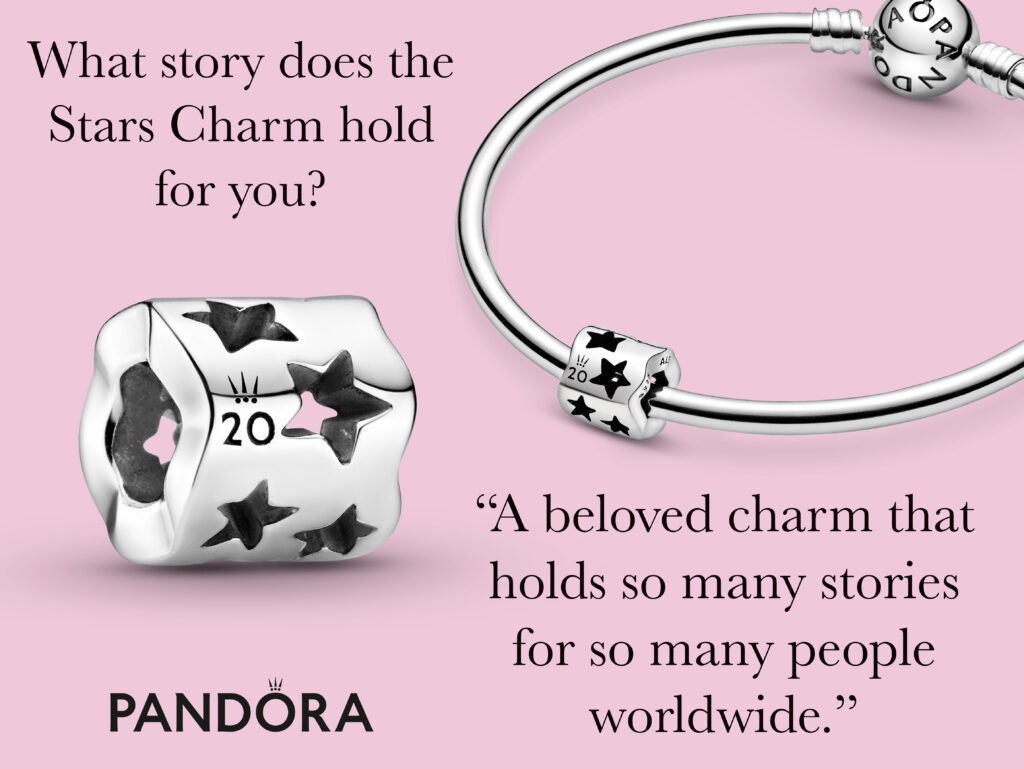 This charm has to be in my top three favourites of the 20th Anniversary charms! This charm speaks to my heart, as it reminds me of a special Eskimo Proverb:
"Perhaps they are not stars, but rather openings in heaven where love of our lost ones pours through and shines down upon us to let us know they are happy."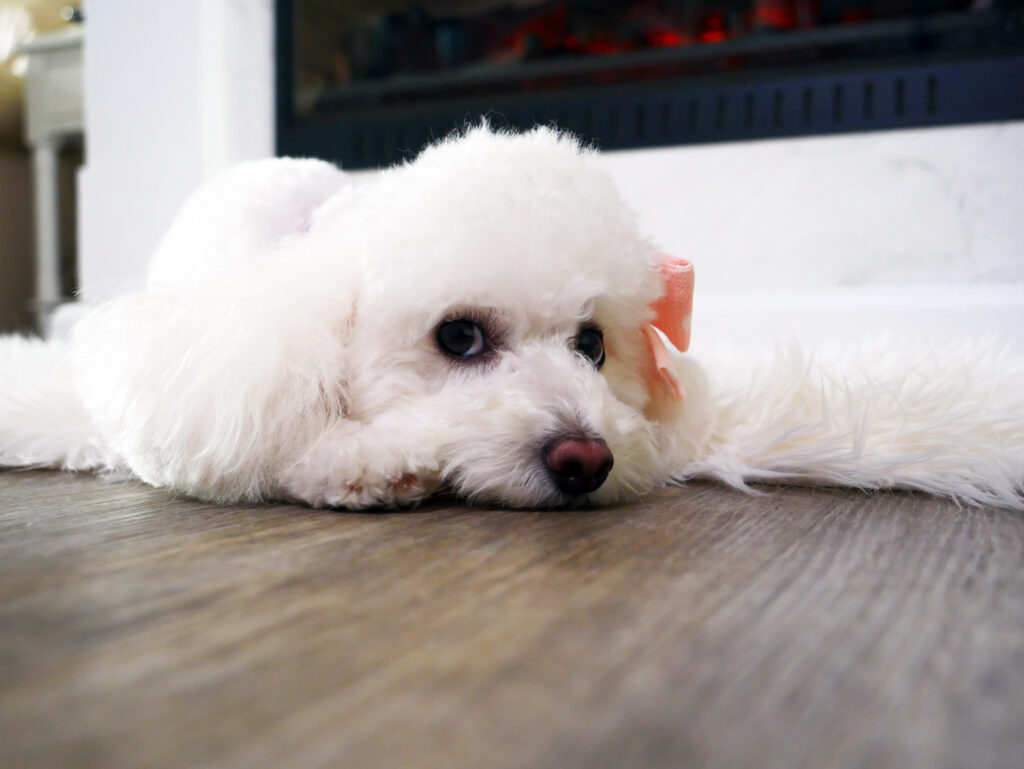 I have heard this proverb before and it has always made my heart smile. It has only been a few days since my dear miniature poodle Ella, passed away. This charm could not have been released at a better time for me. It will serve as a reminder that she's looking down on me now, shining brightly. I would love to get two of these charms, if I am lucky. I want to add one to my "PawfectElla" themed Pandora Bracelet, inspired by her. I would also like to add it to my Pandora 20 themed bracelet too.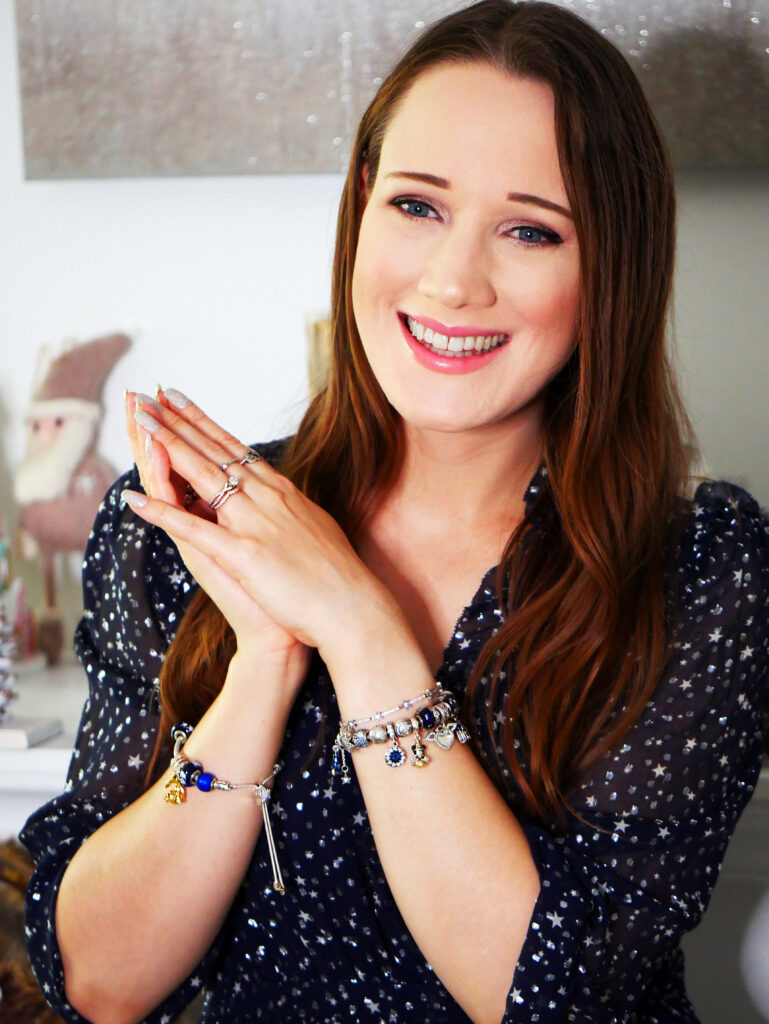 Each month, I celebrate Pandora's 20th anniversary by sharing a special charm in my personal Pandora collection. For this month, I am telling the story behind the Inspirational Stars Dangle Charm. I have them on my When You Wish Upon A Star Pandora Bracelet: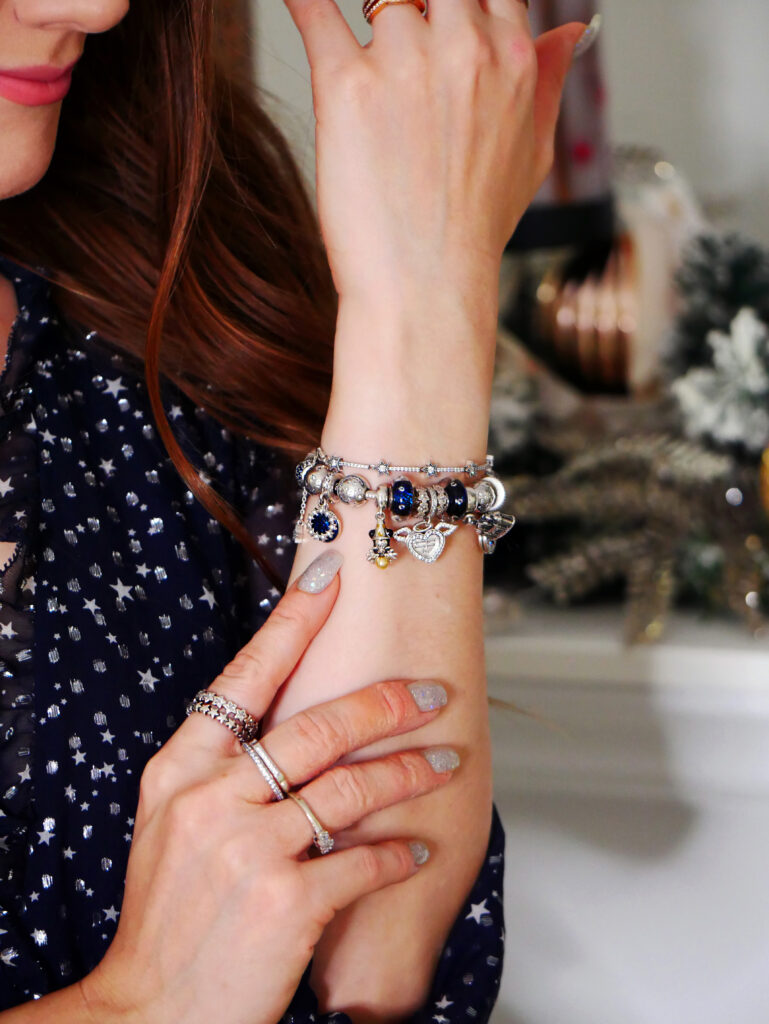 Each charm on this bracelet represents going after your dreams and making the seemingly impossible, possible. It is also inspired by wonderful memories of visiting Disneyland.
My Story behind the Inspirational Stars Dangle Charm:
I have created a Youtube video to more personally tell you the story behind this charm! You can watch it HERE or down below:
The Details…
The The Inspirational Stars Dangle Charm is a sterling silver dangle charm with shimmering blue enamel, as well as sparking cubic zirconia stars and bale detailing. On the back of the charm, it reads: Dream it, Wish It, Do it with a small star on the top. This charm is inspired by the night sky.
And that concludes this blog post! I would like to thank Pandora for the opportunity to be a part of their 20th Anniversary celebration! I am excited to share exclusive Pandora 20 content and moments with you, for the month of December! I cannot believe that the year is coming to an end! Pandora will be providing me with 3 of the 12 anniversary charms, in this celebration.
Thank you so much for reading! I hope you have a wonderful day.