Pandora 20 | The Love Dice | Life is A Fairytale (with you) Pandora Bracelet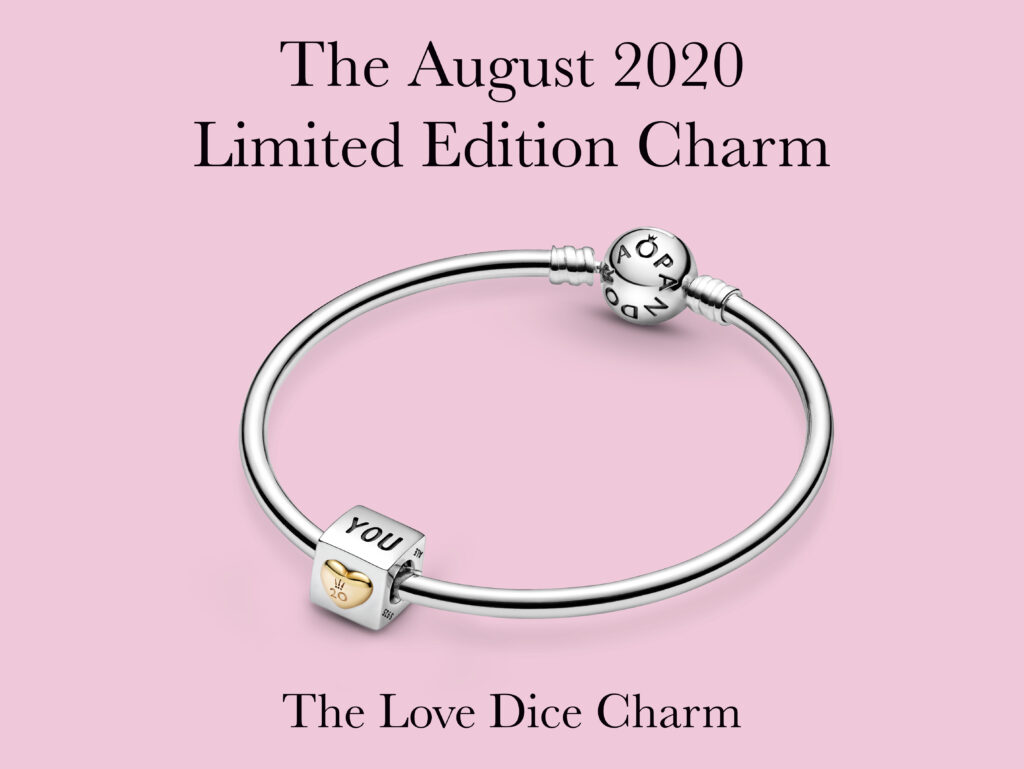 I hope everyone is staying safe and healthy during this time, while enjoying the Summer season. I hope this blog post adds a smile to your day!
This year, Pandora continues to celebrate their 20th Anniversary of the Pandora Moments charm bracelet. This charm bracelet was first released in 2000. To celebrate 20 years of collecting, Pandora is going through their archives and bringing back a vintage charm every month in 2020. All 12 of the charms will be limited-edition. Each charm will be available only until it has sold out, which makes all 12 charms an absolute must for a Pandora collector!
I am so excited to continue celebrating Pandora's special milestone! To celebrate Pandora's anniversary, each month, I share a special story behind a charm in my collection, and reveal what the limited-edition Pandora 20 Charm is!
So, make sure to grab a cup of iced tea…and let me share with you what this month's charm is!
* All 2020 Limited Edition Love Dice photos are provided by Pandora *
The 2020 Limited Edition Love Dice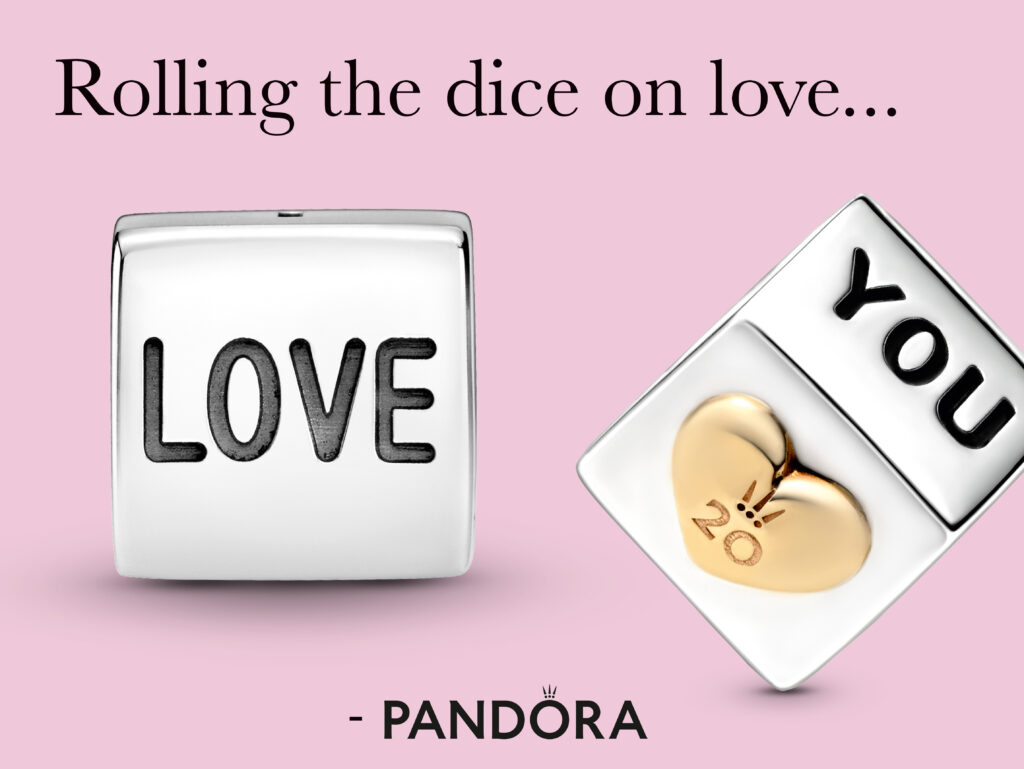 It's August 20th! Today we celebrate the relaunch of the Love Dice! The original style number of this vintage charm was 790200 and it was called the I Love You Charm. The updated version is also two tone. It is made in sterling silver with a 14 ct. gold heart. The Pandora 20 hallmark is displayed on the centre of the 14 ct. gold heart.

Prices from $100 USD and $110 CAD.
Each 2020 Love Dice charm comes with a certificate, confirming its authenticity.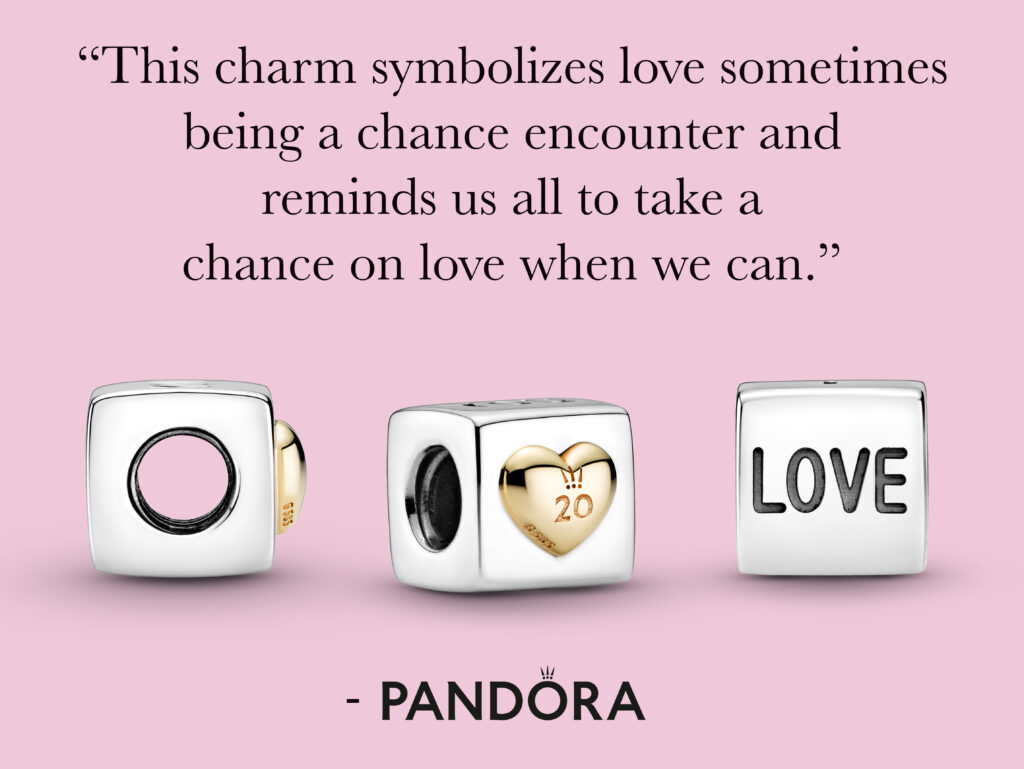 The 2020 Limited Edition Love Dice Charm is available globally on Pandora's estore and in selected Pandora stores. Very limited numbers are available, so it is best to purchase today, June 20th, 2020…if its not already sold out!
Click HERE to shop (EN)
Click HERE to shop (FR)

*please note that these charms are very limited. Until supplies last.
The Limited Edition Love Dice Charm looks similar to the original design of the I Love You charm. I love collecting two tone charms and I have missed seeing new two tone charms release in Pandora's recent collections. It is wonderful to see a second two tone charm in the Pandora 20 Anniversary charm collection!

For me, the Love Dice message is a wonderful reminder to take a chance on love, after all…that is how I met my husband! It also has a lovely nod to my husband and I's love of board games.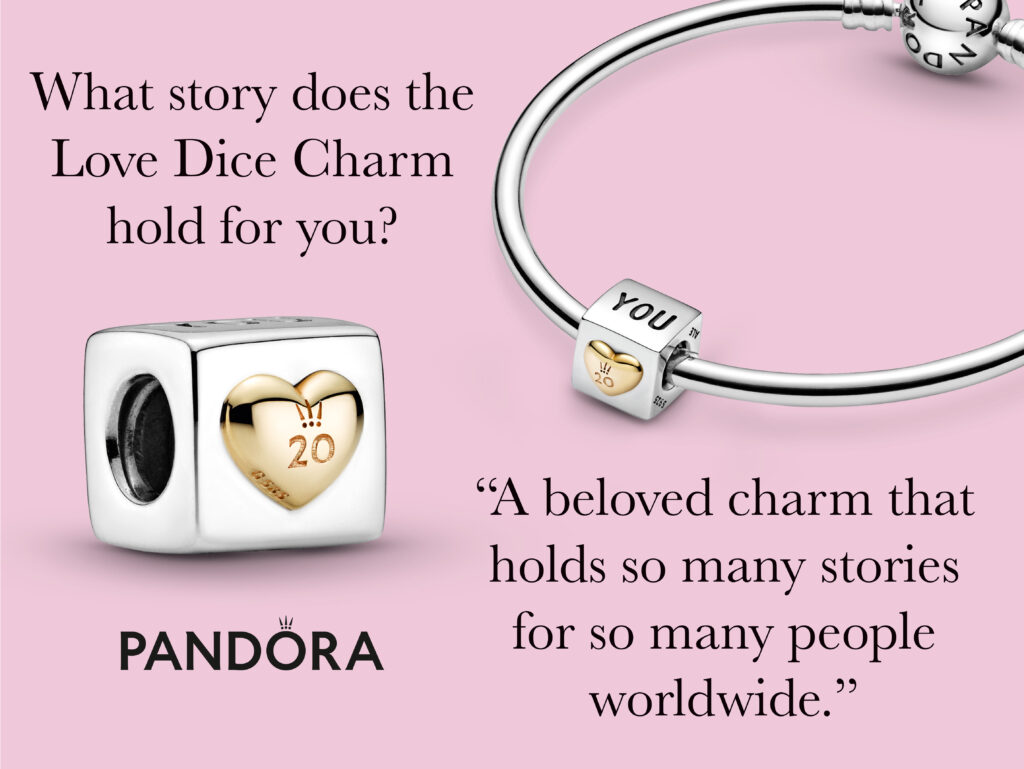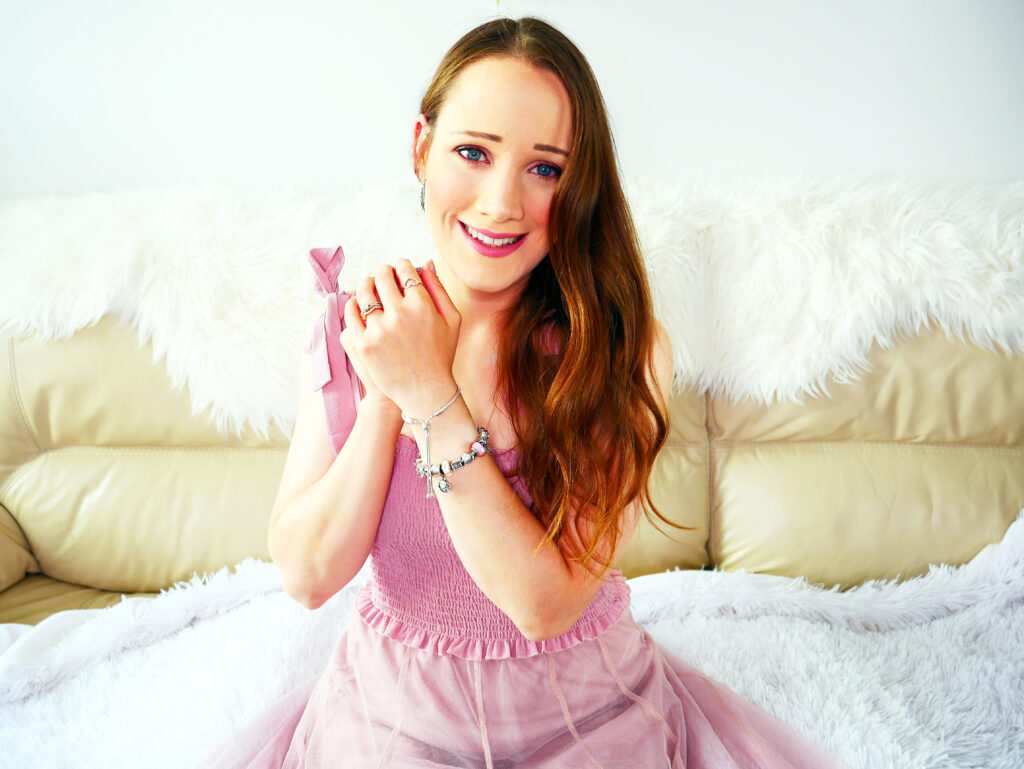 Each month, I celebrate Pandora's 20th anniversary by sharing a special charm in my personal Pandora collection. For this month, I am telling the story behind my Princess and the Pea Charm. I have it on my "Life is a Fairytale (with you)" themed Pandora Bracelet: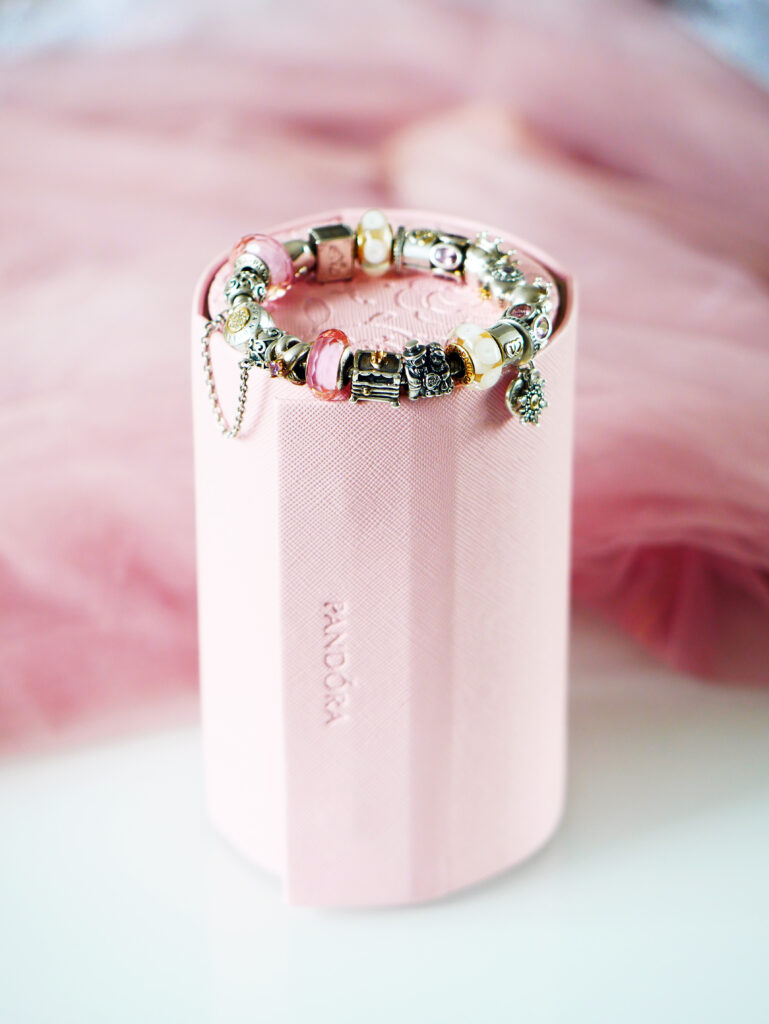 "My Life is a Fairytale (with you)" bracelet is inspired by my husband and I. I think of it as an extension to my "Something Blue" wedding themed Pandora Bracelet. Each charm on this bracelet represents our love story and my love of fairytales. The colours on it are pink, gold and white. These were our wedding day colours!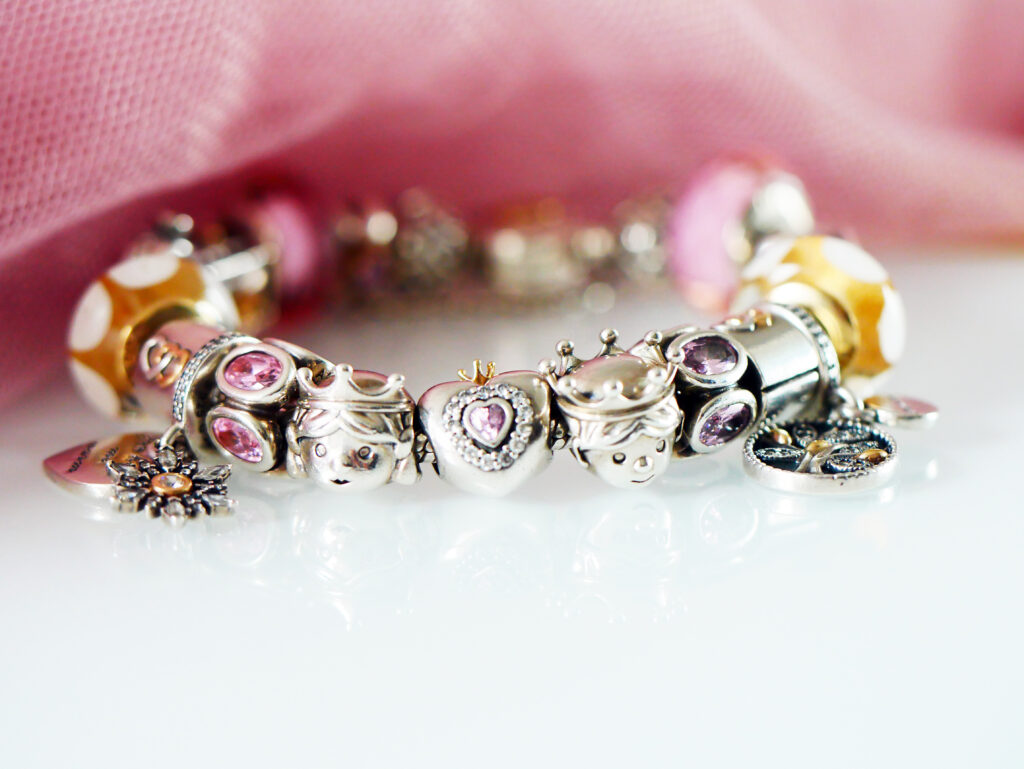 In the centre of the bracelet, I have the Prince Character Charm and the Princess Character Charm on opposite sides of the Pink Princess Heart Charm (retired).
My Princess and the Pea charm can be found on the right section of the bracelet, beside the Mr. and Mrs Wedding Couple charm (retired) and a White Mystic Gold Pandora Murano glass charm.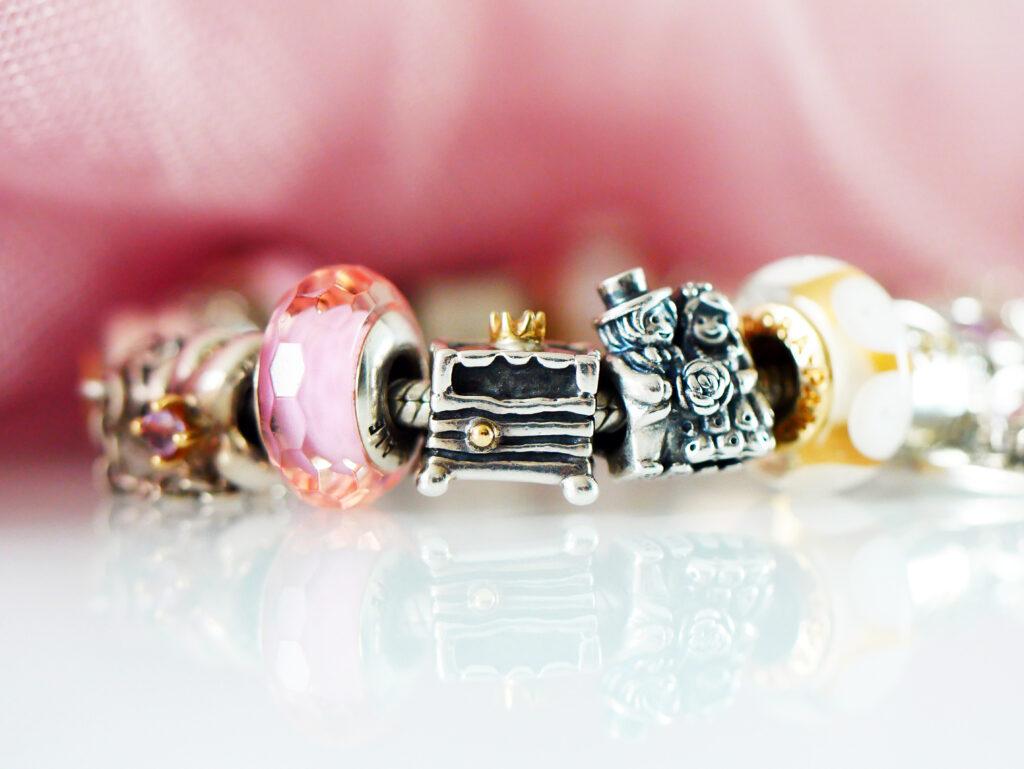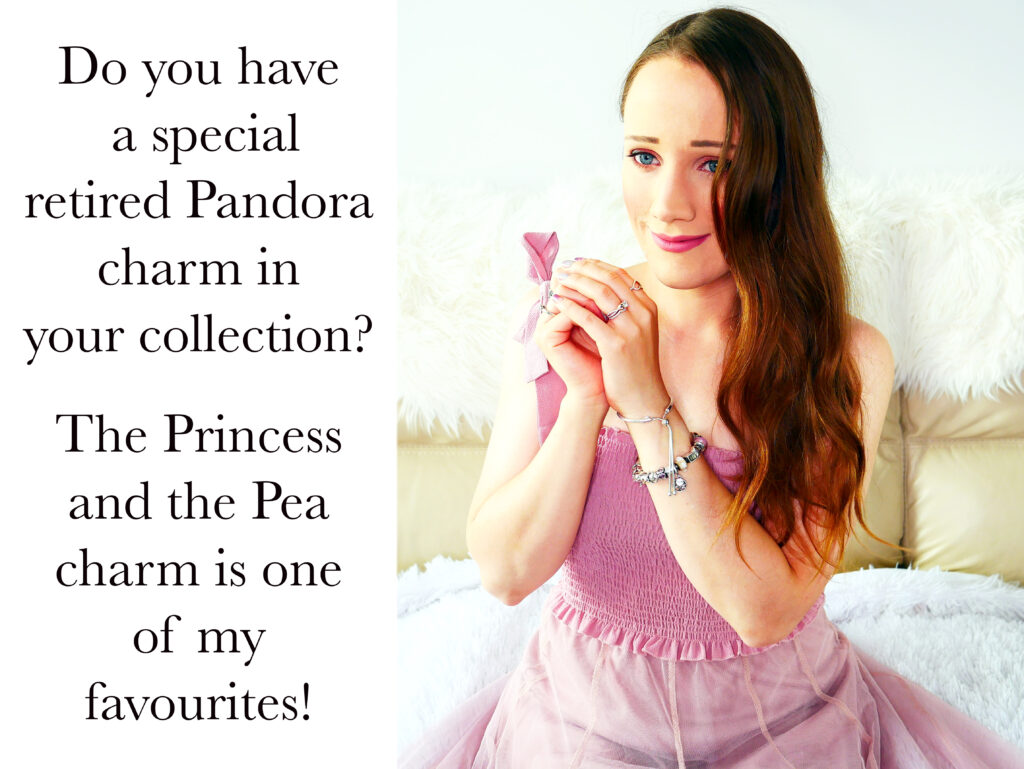 My Story behind the Princess and the Pea Pandora Charm:
The Princess and the Pea charm represents my love of reading fairytales and fantasy books. Ever since I was a little girl, I loved to read fantasy and fairytale books. As a child, I would stay up late reading a good book and enjoying a delicious cup of tea!

Five Fantasy books I loved as a teenager were:
Summers at Castle Auborn by Sharon Shinn (still my favourite book)
The Never-Ending Story by Michael Ende
The Chronicles of Faerie series by O.R Melling
The Lord of the Rings series by J.R.R Tolkien
What were some of your favourite books, as a child or teenager?
I have created a Youtube video to more personally tell you the story behind the Princess and the Pea Charm, as well as a closer look at my "Life is a Fairytale (with you) bracelet! You can watch it HERE or down below:
The Details…
The Princess and the Pea Charm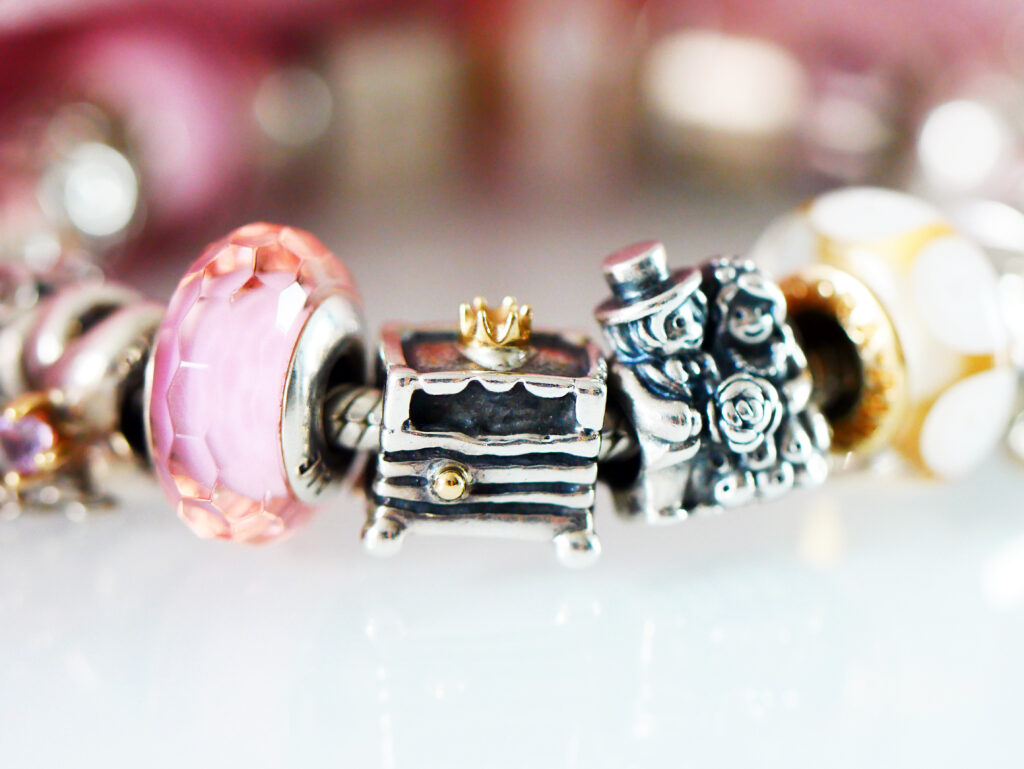 The Princess and the Pea charm is a two tone charm in the shape of a royal bed with mattresses piled high! It also has rounded bed legs and a royal canopy. Atop the royal canopy rests a 14 ct. gold crown, which represents the Princess. There are also two 14 ct. gold "peas" that are hidden between the layers of mattresses, one on each side of the charm.
On the bottom of the charm, the hallmarks 925 and ALE are found: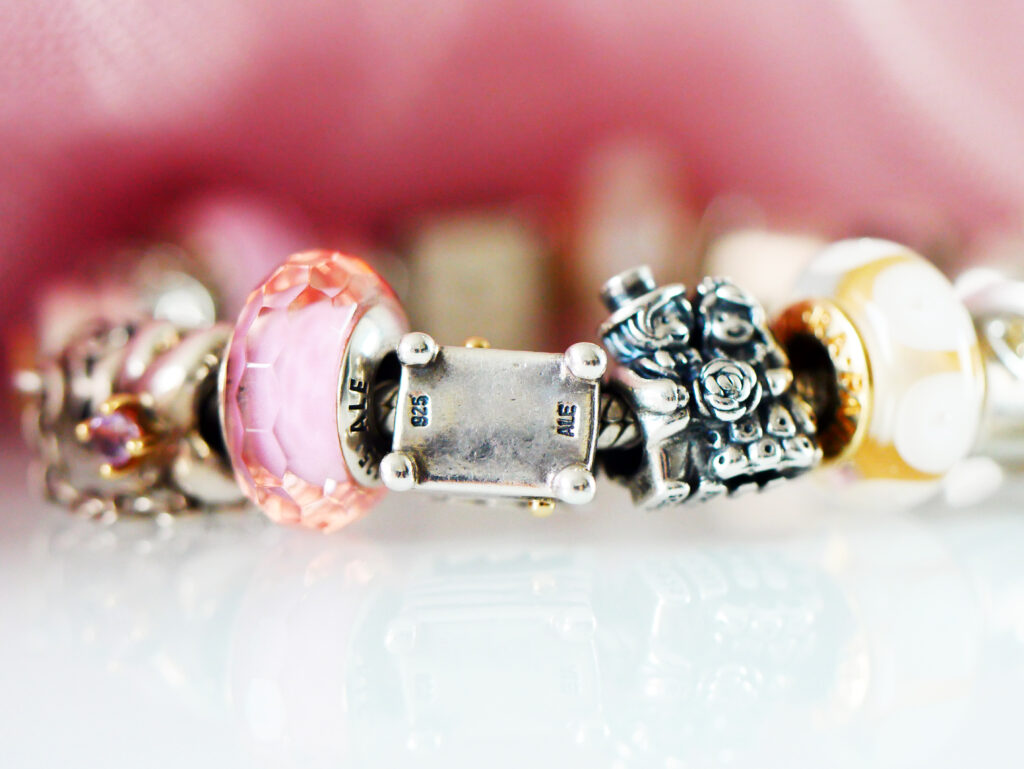 This threaded charm is part of the Hans Christian Andersen Pandora collection. This three piece collection released in celebration of Andersen's 200th Anniversary. Along with the Princess and the Pea charm, it also had the Ugly Duckling and the Top Hat.
And that concludes this blog post! I would like to thank Pandora for the opportunity to be a part of their 20th Anniversary celebration! I am so excited to share exclusive Pandora 20 content and moments with you, over the next 4 months! Pandora will be providing me with 3 of the 12 anniversary charms, in this celebration.

Thank you so much for reading! I hope you have a wonderful day. Take care, stay healthy and spread love, especially during this time. <3