OHM Beads Holiday Style | Beadmas 2020 | #BeadmasStories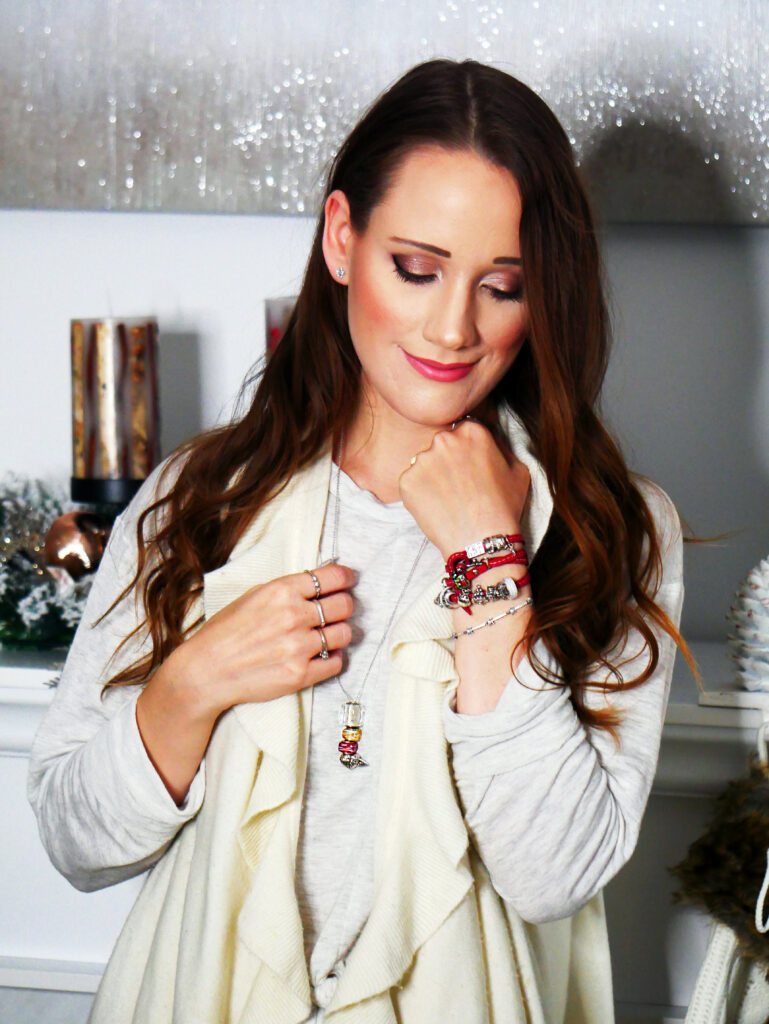 Happy Beadmas 2020! I hope you are all had a great week. I cannot believe it is already Friday and day 4 of Beadmas!
In today's blog post, I am sharing a cozy outfit styled with some holiday themed OHM Beads piece.

So, make sure to grab a delicious cup of tea and let me share my outfit with you!
The Jewellery:
For jewellery, I am wearing my Lucky Red OHM Whip Bracelet. It is limited edition and exclusive to OHM in Taiwan. It is such a brilliant pop of red. Perfect for the holiday season, but year round too! On it, I have a mixture of Beadmas, Christmas/Holiday beads, as well as beads such as OHM OHMily and OHM Bead Mail. These two beads remind me of this amazing bead community and the wonderful people at OHM.
I am also wearing my OHM Drop Necklace paired with OHM Candy Crush, OHM Sugar Dipped and OHM Ice Cube. I am obsessed with OHM Ice Cube and find myself using it with a lot of necklace designs. It is perfect for the winter season! BUT…it's also fun to wear in the summer, when you need to "cool off". It is an exclusive bead to OHM in Thailand.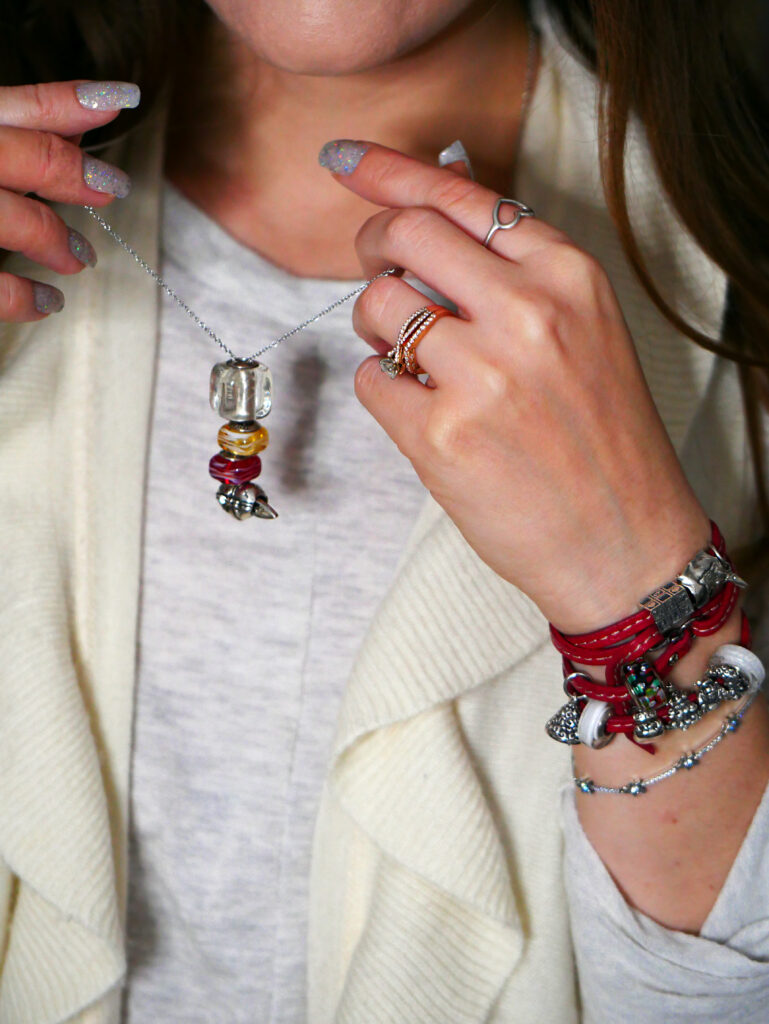 The Clothing:
For clothing, I am wearing a ruffled sweater vest I purchased from Anthropologie almost two years ago. This vest is a great layering piece and it is very versatile. I can dress it up or down. I can also wear it in the spring, autumn and winter seasons. It has a nice amount of warmth to it! I also love the creamy colour to it! I tried to find a similar version, but I couldn't find an exact match. Another vest I have been eying (in a similar colour) is the Maddie Sherpa Vest from Anthropologie.
For today's outfit, I paired it with an older cotton shirt from Marshals for a more casual look.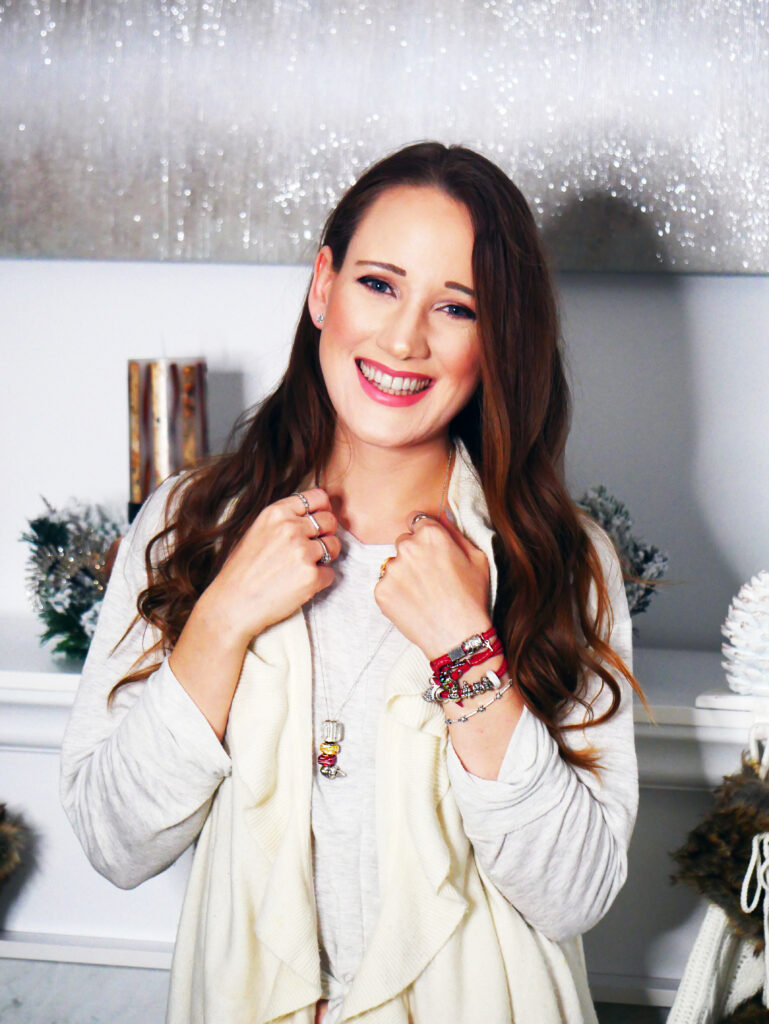 The Giveaway:
Day 4 of #Beadmas2020 #BeadmasStories

One winner will win:
A free bead of their choice, up to $65 value. (Reward will be provided as a "$65 OFF" OHMbucks coupon to the winner. A "My OHM"account required. Free shipping will be applied.)
Here's how to enter:
Leave a comment below and include your Instagram Handle.
Go to Instagram and find my #BeadmasStoriesDayFour post.
Answer the following question in the comment section of the Instagram:
What bead am I wearing that is exclusive to OHM in Thailand?
Follow @ohmbeads and @fashionstoryteller on Instagram (if you are not already).
This giveaway ends on December 5, 2020 at 11 am EST . 1 random winner will be drawn. Winner must follow all instructions correctly to win. Winner must answer question 3 correctly.
Winner will be contacted through Instagram Direct message and will have 24 hours to claim their prize. If I have not heard back after 24 hours, a new winner will be drawn. Winner will be announced on my Instagram Stories.
This giveaway is in no way endorsed, affiliated or sponsored by Instagram, WordPress or Anthropologie.